Frank Miller And Rosario Dawson Confirm Sin City 2 Is Written, Will Shoot In April 2009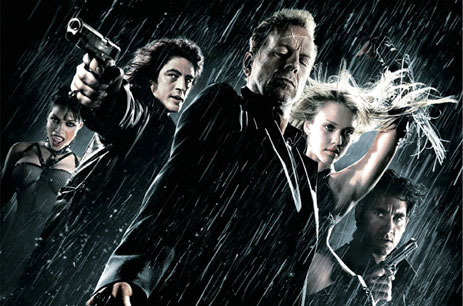 I have fond memories of Sin City. A wildly stylish, over-the-top thrill ride, Sin City prooved that some graphic novels are so tailored to fit the big screen that they can make for great film adaptations, losing almost nothing in the process. Talks of a sequel started up soon after the $40-million-budgeted film made almost double that amount domestically, but with Miller occupied with The Spirit and Rodriguez off on his own adventures, the possibility seemed to fade out of sight. Until now.
IGN recently confirmed with Frank Miller that plans for the film are fully underway. "Sin City 2 is written...It's mainly a matter of working out the details of the production. I'm hoping to do it with Robert Rodriguez again in the same circumstances that we did the first one, and we could be shooting as soon as April." Those who followed the first film's production will know that Miller was heavily involved in the direction of the film (Rodriguez chose to resign from the Director's Guild, so that Miller could officially be credited as such. Miller was also a producer for the film). On Friday, IESB reported that Rosario Dawson corroborated Miller's story, and that Dawson would be reprising her role as Gail.
Although the story hasn't officially reported, Miller has said that the new film will be based on A Dame To Kill For (a prequel to The Hard Goodbye), and will feature stories surrounding Blue Eyes and the Old Town Girls. There will also be and an original story featuring Nancy Callahan (Jessica Alba, in the first film). While I am increasingly apprehensive of Miller's directorial debut in The Spirit, I still think that Miller and Rodriguez could probably make a great team, and I remain excited for a Sin City sequel. How about you guys?
Update: According to Superherohype, Mickey Rourke, who played Marv in the first film, is currently not interested in starring in the sequel:
No, I'm not interested in that right now. That's not a reality right now. It's pissing in the wind. There's different factions going different directions there. I don't know. That's three hours of make up and I'm claustrophobic, so I'm going to have to work something out.