VOTD: Prop 8 - The Musical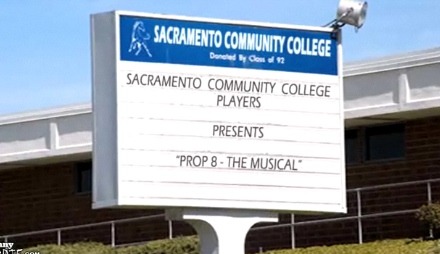 Funny Or Die presents "Prop 8 – The Musical" written by five time Oscar nominee Marc Shaiman ("Hairspray," "South Park-Bigger, Longer & Uncut") and directed by Adam Shankman ("Bedtime Stories," "Hairspray").
The all-star ensemble cast includes: Jordan Ballard, Margaret Cho, Barrett Foa, J.B. Ghuman, John Hill, Andy Richter, Maya Rudolph, Rashad Naylor, Nicole Parker, John C. Reilly, Allison Janney, Kathy Najimy, Jenifer Lewis, Craig Robinson, Rashida Jones, Lake Bell, Sarah Chalke, Katharine "Kooks" Leonard, Seth Morris, Denise "Esi!" Piane, Lucian Piane, Richard Read, Seth Redford, Quinton Strack, Tate Taylor, Jack Black and Neil Patrick Harris.