Battlestar Galactica Prequel Series Caprica Is On The Way!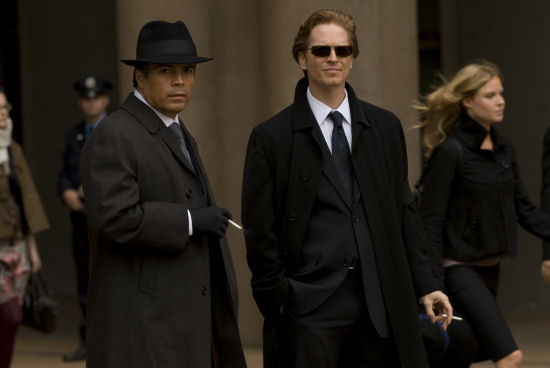 This is a tough time for Battlestar Galactica fans. Not only do we have to wait until January to satisfy our BSG addiction (an artificial delay so that Sci-Fi could string along viewership into 2009), it will also be a bittersweet return since the remaining 10 episodes will be the last we see of the series. Of course the possibility for further BSG films still exists (a la Razor), but for now we can only brace ourselves for the end.
With their best property ever on its way out, it's no surprise at all that Sci-Fi has decided to greenlight the proposed prequel series, Caprica. A 2 hour pilot film has already been produced, and Sci-Fi has ordered an additional 18 hours. The only downside to the series getting greenlit now is that we won't be seeing anything until 2010, even though the pilot is done. Production on the series proper is scheduled to begin during the summer of 2009.
Set 50 years before Battlestar Galactica, the series follow two rival families, the Graystones, whose artificial intelligence breakthrough lead to the creation of the Cylons, and the Adamas. Judging from the trailer below, and the scattered information available online, I expect the series to be something akin to BSG meets Dynasty.
And yes, that worries me too.
I don't think that Ron Moore would willingly let someone destroy his legacy, and since he's still exec. producing the series with BSG veteran David Eick, I'm confident that they'll make this work. Remi Aubuchon (24), who co-wrote the pilot with Moore, also joins in with the executive producing duties. Expect the series to be more about the walk-and-talk, and less so on the action elements from BSG.
Refresh your memory on the pilot by checking out the teaser below:
Find the full press release after the break:
NEW YORK, NY – December 2, 2008 – SCI FI Channel has greenlit production on the new original series Caprica, ordering 20 hours of the drama including the two-hour pilot, it was announced today by Dave Howe, President, SCI FI. Caprica is the prequel to SCI FI's hit original series Battlestar Galactica and stars Eric Stoltz (Milk, Chicago Hope), Esai Morales (Jericho, NYPD Blue), Paula Malcomson (Deadwood, ER) and Golden Globe nominee Polly Walker (Cane, Rome).
Set 50 years before Battlestar Galactica, Caprica follows two rival families – the Graystones and the Adamas – as they grow, compete, and thrive in the vibrant world of the 12 Colonies, a society recognizably close to our own. Enmeshed in the burgeoning technology of artificial intelligence and robotics that will eventually lead to the creation of the Cylons, the two houses go toe-to-toe blending action with corporate conspiracy and sexual politics. Caprica will deliver all of the passion, intrigue, political backbiting and family conflict in television's first science fiction family saga. Production on the series is slated to begin summer '09 in Vancouver for a 2010 premiere. Jeffrey Reiner (Friday Night Lights) directed the pilot.
"Caprica will build on Battlestar Galactica's acclaimed legacy of gripping drama and extraordinary characters," says Dave Howe in making the announcement. "It's the beginning of a brand new epic saga that will appeal to both new viewers, totally unfamiliar with the Battlestar franchise, as well as existing loyal and passionate Battlestar fans."
"Ron, David and Remi have created an amazing series with thought-provoking storytelling that deals with a world very similar to our own. It's definitely not as dark as Battlestar, but like that show, this series has smart, dimensional characters who grapple with issues of love, sex and politics from a world in transition," says Mark Stern, Executive Vice President, Original Programming for SCI FI & Co-Head Original Content, Universal Cable Productions.
As the series begins, a startling development is about to occur – the creation of the first cybernetic life-form node or "Cylon" – the ability to marry artificial intelligence with mechanical bodies. Joseph Adama (Esai Morales) – father of future Battlestar commander William Adama (Sina Najafi) – a renowned civil liberties lawyer, becomes an opponent of the experiments undertaken by the Graystones (Eric Stoltz), owners of a large computer corporation that is spearheading the development of these living robots: the Cylons.
Caprica is produced by Universal Cable Productions and executive produced by Ronald D. Moore and David Eick (Battlestar Galactica) and Remi Aubuchon (24). It is co-written by Aubuchon and Moore and directed by Jeffrey Reiner (Friday Night Lights).
Discuss: Do you have any faith in this prequel series? Should BSG just die a graceful death without threat of retcon?