Kristen Stewart Is Joan Jett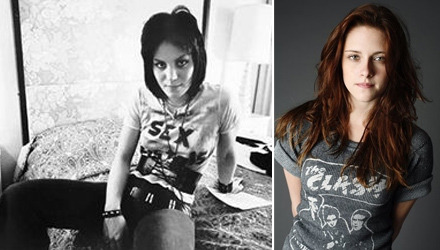 Twilight star Kristen Stewart has signed on to play famous rock'n'roller Joan Jett in The Runaways. Music video director Floria Sigismondi wrote and will helm the project. Sigismondi's videos have included Marilyn Manson's Tourniquet, Christina Aguilera's Fighter and The White Stripes' Blue Orchid.
The film is a biopic of the first successful all-girl hard rock band The Runaways (hence the title), which fell apart after four years due to management and money disputes.  According to THR, the film "will revolve around Jett and [singer-keyboardist Cherie] Currie and follow them from the band's meteoric rise as teenagers to their dissolution and disillusionment."
River Road Entertainment hopes to go into production in 2009, but they will have to work around the Twilight sequel New Moon, which is supposedly gearing up for a March 2009 start.