Mark Romanek To Adapt Never Let Me Go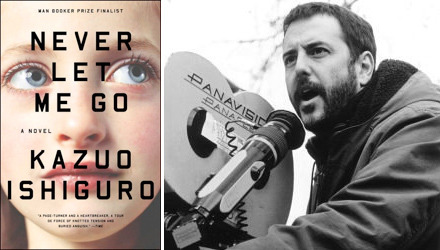 We may receive a commission on purchases made from links.
Mark Romanek has signed on to direct a big screen adaptation of Kazuo Ishiguro's novel Never Let Me Go. According to Production Weekly, Beach author and 28 Days Later/Sunshine screenwriter Alex Garland penned the adaptation.
Romanek is probably best known for his music video work. He directed the video for Michael and Janet Jackson's "Scream" in 1995, a sci-fi themed video which won the 1996 Grammy for Best Music Video, and to date, is still the most expensive music video ever produced ($7 million). His other videos include Closer for Nine Inch Nails, Criminal for Fiona Apple, Devil's Haircut for Beck, and Johnny Cash's cover of Nine Inch Nails' "Hurt".
In 2002, he made a wonderful indie thriller called One Hour Photo, which starred Robin Williams as an photo lab employee who becomes obsessed with a young suburban family (if you haven't seen it, netflix it!). Romanek was originally attached to dieect The Wolf Man for Universal but dropped out for undisclosed reasons. The official book description follows:
"From the acclaimed author of The Remains of the Day and When We Were Orphans, a moving new novel that subtly reimagines our world and time in a haunting story of friendship and love. As a child, Kathy–now thirty-one years old–lived at Hailsham, a private school in the scenic English countryside where the children were sheltered from the outside world, brought up to believe that they were special and that their well-being was crucial not only for themselves but for the society they would eventually enter. Kathy had long ago put this idyllic past behind her, but when two of her Hailsham friends come back into her life, she stops resisting the pull of memory. And so, as her friendship with Ruth is rekindled, and as the feelings that long ago fueled her adolescent crush on Tommy begin to deepen into love, Kathy recalls their years at Hailsham. She describes happy scenes of boys and girls growing up together, unperturbed–even comforted–by their isolation. But she describes other scenes as well: of discord and misunderstanding that hint at a dark secret behind Hailsham's nurturing facade. With the dawning clarity of hindsight, the three friends are compelled to face the truth about their childhood–and about their lives now. A tale of deceptive simplicity, Never Let Me Go slowly reveals an extraordinary emotional depth and resonance–and takes its place among Kazuo Ishiguro's finest work."
The book was named one of TIME's 100 Best Novels (from 1923 to the Present), featured on many top ten books of 2005 lists, and a finalist in the National Book Critic Circle Award. For those interested, you can buy the softcover for only $11.20 on Amazon.