Details Revealed: Brett Ratner's Beverly Hills Cop 2009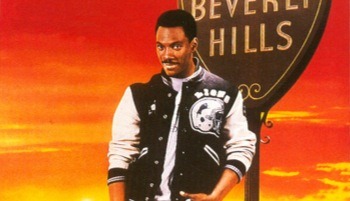 LatinoReview has gotten a look at Michael Brandt and Derek Haas' screenplay for Brett Ratner's "Beverly Hills Cop 2009". Yes, even the title has a Ratner-level of annoyance. So what's it about?
Billy Rosewood (Judge Reinhold) is killed from a fall out of the 20th story of the Los Angeles Police Headquarters, but Axel (Eddie Murphy) refuses to believe it was a suicide. He is teamed up with a fat rookie cop with low self-esteem named Goodwin to solve the "murder". And when he's not on the case, Axel is trying to hook Goodwin up with a lady cop in the facial recognition department whom he has a crush on, and teach him the ropes. And the whole thing degenerates into a "pretty standard police corruption story". How bad does this sound already? Well here are the top four reasons (quoted directly from Latino Review) on why this will probably suck:
"A lot of the shit in the middle is way boring."
"Axel Foley has no funny lines"
"It's like Brandt and Haas saw the first BHC and just didn't have the energy to write anything that matched up to it."
"It's almost like the writers took an Arnold Schwarzenneger script they had lying around and changed the details to make it a Beverly Hills Cop movie. There's no fun in it."
Read the full review over on LatinoReview.