More Information About David Fincher/Keanu Reeves' Chef Project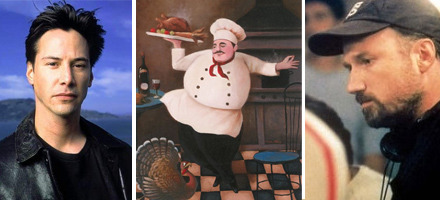 Remember that item we ran last week — David Fincher to direct Keanu Reeves in a movie about a Chef? We didn't know much about the project back then, but an anonymous scooper has filled me in.
The Untitled Chef Project is a screenplay by Steven Knight, the screenwriter behind Dirty Pretty Things, Amazing Grace, Eastern Promises, and Martin Scorsese's upcoming Dennis Lehane adaptation Shutter Island. Apparently the screenplay was featured on the 2007 Black List, a list of screenplays compiled by over 150 executives and assistants. The project is now set up at Paramount. Fincher and the studio recently cleared the air, so this pairing makes sense. So what is the movie about?
"A Michelin-level chef tries to make a comeback from major personal issues. He gathers his old friends together as his 'dream team' and ends up falling in love with the newest member of the group."
I have yet to read the screenplay, but the first page has a unshaven Chef named Adam shouting obscenities in French (subtitled). It seems pretty obvious that Keanu will be playing Adam.