Box Office: Twilight Goes For The Throat With $33M Friday; Possible $70.5M Weekend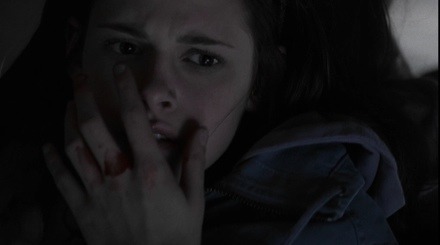 Edward Cullen and Bella Swan, the leading characters in the film adaptation of Stephenie Meyer's Twilight, may be models for abstinence and chastity, but the movie's hardcore fans are not abstaining from the box office and their fervor for the Summit release is anything but chaste. After a reported $7.5M for Thursday midnight screenings, throngs of girls have packed multiplexes all day long, and the Catherine Hardwicke-directed movie has generated another $25.5M since sunrise Friday for a spectacular $33M opening day.
Now the question is, how will Twilight perform the rest of the weekend and in its total domestic run. The smart money is on the 3-day following the Sex & the City formula with $22.1M Saturday, down about 33% Friday-to-Saturday, followed by a 30% Saturday-to-Sunday dip to a possible $15.4M. That would bring the weekend haul to an impressive $70.58M.
If that number holds, and there is room for error because this is some uncharted territory (there has never been anything quite like Twilight), but the multiple (the number that you multiply the opening weekend by to reach the total domestic gross) could be as low as 2.25, which would be about the same as High School Musical 3: Senior Year (Disney). My sense is that this movie is very, very niche, and the multiple could be even less than HSM3, which has benefited from big family audience business. I am guessing that Summit's biggest movie ever will finish in the $145M-$150M range.
This is all fantastic news for Summit. As a production company, they have produced many successful many successful films, including Evita ($50M cume), American Pie ($102.5M cume),  Mr. And Mrs. Smith ($186.3M cume),  Step Up ($65.3M cume), Step Up 2 the Streets ($58M cume), and the current arthouse hit Happy-Go-Lucky ($1.8M cume so far), which will likely earn Sally Hawkins a Best Actress nomination at this year's Oscars, but the saga of Edward and Bella is only the 6th movie that they have distributed themselves. The previous 5 – P2 ($4M cume), Penelope ($10M), Never Back Down ($24.8M), Fly Me to the Moon ($12.2M) and Sex Drive ($8.3M) – combined to gross $59.3M domestic, less than Twilight's opening weekend.
Chalk the success of Twilight up as one for the crowd that says "There's too much sex and violence in Hollywood movies." The author Meyer, a Mormon and has never tried alcohol or seen an R-rated movie, is the biggest star in the industry this weekend. Twilight is about vampires, but the books, and now blockbuster movie, are about old-fashioned romance and chivalry. Edward and Bella are the morally sound antidote to TV shows like Gossip Girl and the new version of Beverly Hills 90210. Can a movie make abstinence the cool thing to do? All those high school and college guys who are getting dragged to see this one on their Friday and Saturday dates are likely to put the theory to the test.
The other major wide release this weekend is Bolt from Walt Disney Animation Studios, but, after Beverly Hills Chihuahua, audiences may have had their fill of talking dogs. Despite almost 900 engagements in Disney Digital 3D, Bolt managed only about $7.1M on opening day, edged by Quantum of Solace (Sony), which grabbed $8.7M on its 2nd Friday. I still anticipate a #2 finish for the well-reviewed animated movie with a possible $27.69M, but the number is well below expectations.
Bolt is not from Pixar, but the executive producer is Oscar winner John Lasseter who wrote and directed Pixar mega-hits Toy Story, Toy Story 2, A Bug's Life and Cars. The most recent glory days for Disney Animation started in 1989 with the now-classic The Little Mermaid ($111.5M domestic) and peaked with 1994's The Lion King ($328.5M domestic). The era also included excellent movies like Beauty & the Beast ($171.3M domestic), Aladdin ($217.3M domestic), Pocahontas ($141.5M domestic) and Mulan ($120.6M domestic). The company seemed to come off the rails right after 1999's Tarzan, which scored a huge $171M US gross.
This was Disney trying to capture some of that Pixar magic for its own animation brand. Since 2000, Walt Disney Animation Studios has released 15 films with an average opening weekend of only $12.3M and an average domestic gross of just $73.3M, so Bolt is way above the company's recent batting average. But it is still not the monstrous blockbuster they badly want.
I am projecting $26.97M for the rebooted James Bond movie Quantum of Solace (Sony), pushing its 10-day domestic cume to $109M. Dreamworks/Paramount and their sturdy Madagascar: Escape 2 Africa will manage another solid weekend. Mad 2 rounded up $3.75M on Friday, and it should reach $16.68M for the 3-day for a new cume of $138.1M. The equally durable David Wain comedy Role Models (Universal) will round out the top 5 for the weekend. The picture added another $2.4M on Friday and that could translate to $7.44M by Monday morning.
EXCLUSIVE STEVE MASON EARLY FRIDAY ESTIMATES
1. NEW – Twilight (Summit) – $33M*, $9,652 PTA, $33M cume
2. Quantum of Solace (Sony) – $8.7M, $2,516 PTA, $90.7M cume
2. NEW – Bolt (Disney) – $7.1M, $1,945 PTA, $7.1M cume
4. Madagascar: Escape 2 Africa (Dreamworks/Paramount) – $3.75M, $936 PTA, $125.1M cume
5. Role Models (Universal) – $2.4M, $883 PTA, $43.2M cume
6. Changeling (Univeral) – $875,000, $506 PTA, $29.8M cume
7. High School Musical 3: Senior Year (Disney) – $800,000, $339 PTA, $85.6M cume
8. Zack & Miri Make a Porno (Weinstein) – $685,000, $561 PTA, $28.3M cume
9. The Secret Life of Bees (Fox Searchlight) – $500,000, $457 PTA, $34.8M cume
10. Soul Men (MGM) – $370,000, $455 PTA, $10.3M cume
*includes $7.5M from Thursday midnight screenings
EXCLUSIVE STEVE MASON EARLY 3-DAY ESTIMATES
1. NEW – Twilight (Summit) – $70.58M, $20,646 PTA, $70.58M cume
2. NEW – Bolt (Disney) – $27.69M, $11,109 PTA, $27.69M cume
3. Quantum of Solace (Sony) – $26.97M, $7,799 PTA, $109M cume
4. Madagascar: Escape 2 Africa (Dreamworks/Paramount) – $16.68M, $4,165 PTA, $138.1M cume
5. Role Models (Universal) – $7.44M, $2,738 PTA, $48.2M cume
6. High School Musical 3: Senior Year (Disney) – $3.4M, $1,440 PTA, $88.2M cume
7. Changeling (Univeral) – $3.01M, $1,747 PTA, $31.9M cume
8. Zack & Miri Make a Porno (Weinstein) – $2.08M, $1,713 PTA, $29.7M cume
9. The Secret Life of Bees (Fox Searchlight) – $1.77M, $1,621 PTA, $36.1M cume
10. Soul Men (MGM) – $1.25M, $1,545 PTA, $11.2M cume