Anna Kendrick Cast In Jason Reitman's Up In The Air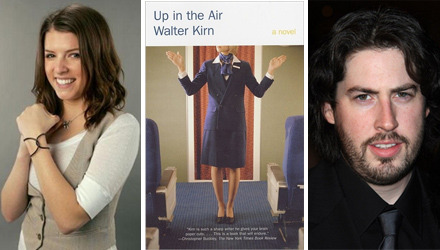 Anna Kendrick has been cast as the female lead in Jason Reitman's adaptation of Walter Kirn's novel Up in The Air. Kendrick scored the role after nailing a set of auditions which was said to involve nearly every young actress in Hollywood, including Ellen Page and Emily Blunt.
Kendrick has a small role in Twilight, but don't let that scare you away. I remember her from a wonderful coming of age film called Rocket Science, which I saw a couple years ago at Sundance. Anna played a fast talking debate team leader named Ginny. Unfortunately, the film came and went, unseen by most of the movie-watching world (but please got Netflix it if you have the time). In my review for that film, I called her performance "career-making", but being cast in Reitman's Juno follow-up will certainly launch her profile into much higher orbits. You can watch a clip of Anna from Rocket Science below:
[flv:http://www.slashfilm.com/wp/wp-content/trailers/rocketscienceclip1.flv 450 250]
Kendrick will star opposite George Clooney, who plays Ryan Bingham, a guy with a simple goal: to accumulate one million miles in his frequent flyer account. Kendrick will play romantic interest. Here is more information from the book's cover synopsis:

"Bingham's job as a Career Transition Counselor has kept him airborne for years. Although he has come to despise his line of work, he has come to love the culture of what he calls "Airworld," finding contentment within pressurized cabins, anonymous hotel rooms, and a wardrobe of wrinkle-free slacks. With a letter of resignation sitting on his boss's desk, and the hope of a job with a mysterious consulting firm, Ryan Bingham is agonizingly close to his ultimate goal, his Holy Grail: one million frequent flier miles. But before he achieves this long-desired freedom, conditions begin to deteriorate. With perception, wit, and wisdom, Up in the Air combines brilliant social observation with an acute sense of the psychic costs of our rootless existence, and confirms Walter Kirn as one of the most savvy chroniclers of American life."
What we already know:

Paramount will distribute the film
Estimated budget of around $12 to $15 million
He wrote one of the roles for Reitman regular J.K. Simmons (who played Ellen Page's father in Juno and Aaron Eckhart's boss in Thank You For Smoking)
Reitman took a break from adapting this book when he came across the script for Juno.
Up in the Air was named one of Amazon.com's Best of 2001.
Time Out New York called Up in the Air "a hilarious, often ingenious ode to America."
The Washington Post called it "A dead-on, wry portrait of the life of the road warrior."
Another one of Walter Kirn's novels, Thumbsucker, was adapted as a feature film back in 2005.