The Return Of Goonies Star Kerri Green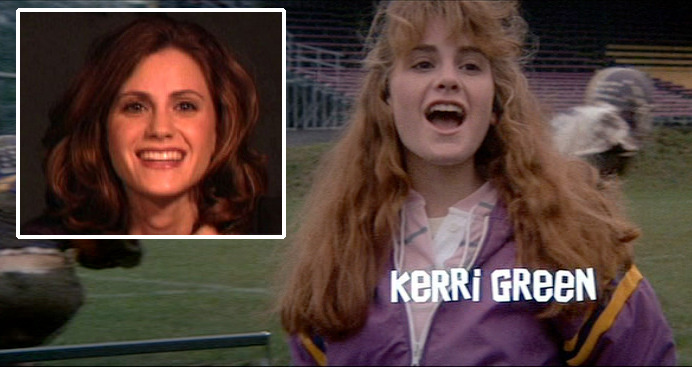 Do you remember Kerri Green? Me neither,
Clarification: I'm getting a lot of comments being like "How can you not remember her? You haven't seen the goonies? It's easy for you to say you know who she is with the photo I included with this post, but would you recognize her by name if you saw the opening credits of her new movie? I think not. Of course I recognize her picture. I was actually commenting more on her name value.
But apparently she played Andy in The Goonies, Jennifer in Summer Rental, Maggie in Lucas, and was never seen again. Well apparently Green, who now looks like a slightly older version of Amy Adams, is poised for a comeback. She will be appearing in a film called Complacent, a "gripping drama" that "centers on two close sisters whose already tumultuous lives are rocked by tragedy." Doesn't exactly sound like a winner, but I might be willing to rent it (via Netflix) just to see what has become of Kerri Green. Full press release after the jump.
LOS ANGELES – 80s screen sweetheart Kerri Green, best known for her role in Chris Columbus & Steven Spielberg's smash-hit favorite The Goonies, is making her return to film with a role in what's shaping up to be this year's American Beauty.
Titled Complacent the gripping drama centers on two close sisters whose already tumultuous lives are rocked by tragedy.
Writer/director Steven R. Monroe, whose previous credits include House of 9 and It Waits, says he wrote the film for Green – who he's been a fan of since his younger years, having watched her in such classics as Lucas and Three for the Road, both films teaming the actress with Charlie Sheen.
"I had [Kerri] in mind when I wrote the film", says Monroe. "I've always been a fan and I knew she'd be perfect for this role.
"I'm just as excited as everyone else will be to have one of our country's finest actresses back on our screens".
Green made her film debut as Andy Carmichael in The Goonies, a $19 million dollar adventure flick that went on to gross over $60 million in box office receipts in the U.S alone.
"I have always wanted to work with Steven R. Monroe, and when I read his script I was blown away!", says Green. "I think Complacent hits a nerve that people try so desperately to avoid, which is what I love about Steven's work".
"I'm just as excited as everyone else is at the thought of seeing Kerri on the screen again" says producer/composer Corey Jackson. "Especially in an indie drama piece like this."".
Joining Green in the film are Cerina Vincent (Cabin Fever), Adrienne Barbeau (Escape from New York), Christopher Showerman (George of the Jungle 2), Elisa Donovan (Clueless), Joey Kern (Super Troopers), and Keir O'Donnell (Wedding Crashers).
Producing team includes Steven R. Monroe (House of 9), Corey Allen Jackson (Meet the Spartans), Dean Alioto (Shadowheart), Simon Johnson and Clint Morris (Condition Dead).