Early Buzz: Benjamin Button - IndieWire Is Unimpressed, Variety Predicts Fincher's First Academy Nomination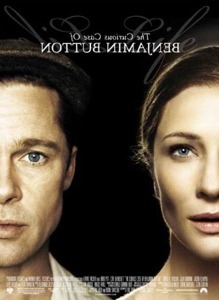 IndieWire's Eugene Hernandez has seen David Fincher's The Curious Case of Benjamin Button and admits "that Benjamin Button is, on first viewing, hardly a lock for best picture," but that "the attention that will justifiably be paid to its considerable technological achievements could sweep it into the higher profile categories."
For example, Forrest Gump (also written by Eric Roth) was popular with the Academy because of the film's technical achievements. Hernandez encourages readers to watch WALL-E again "for a much more striking and beautiful marriage of technology and ideas".
Meanwhile, Variety's Robert Abele calls the film "an effects-laden but character-driven epic that recalls the sweetly doomed, emotional glamour of Hollywood's golden era." Abele claims that Button has "a chance at a category-sweeping juggernaut, with Fincher on track to score his first Academy nomination."
Poster via Fataculture