Box Office: Quantum Of Solace Is Biggest Bond Ever With $70.4M Opening & $700M Worldwide Possible!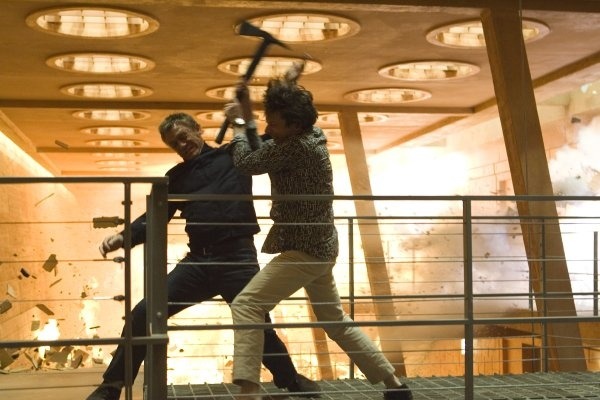 The audacious reboot of the James Bond franchise paid off big with 2006's Casino Royale, and now Quantum of Solace (Sony) has hit the box office jackpot. Whereas Daniel Craig's 007 debut opened with $40.8M, the new Bond, which picks up where Royale left off, has opened almost $30M higher with $70.4M in the US. That is a 72% increase. In fact, Quantum of Solace has opened about 50% better than the previous biggest Bond opening, Pierce Brosnan in Die Another Day in 2002, which started with $47.1M.
Sources are telling me that weekend audiences in the US for Quantum were 54% male and 46% female, and the franchise skewed a bit old with 58% of ticket-buyers over 25. The word-of-mouth will be very good for this excellent film, and for my money, the Casino Royale/Quantum of Solace films are the 2 best Bond films ever. As I wrote on Thursday, these 2 movies are to the Bond franchise, what Batman Begins and The Dark Knight are to the Batman franchise.
Quantum of Solace began opening in overseas territories on October 31, and now, including its meteoric domestic opening, the film banked $322M in 73 territories, and the film has yet to open in lucrative territories like Japan, Australia and Spain. In my estimation, the newest Bond will easily be the biggest 007 ever, becoming the first movie the the franchise to top $200M domestic. $700M worldwide would seem to be a reasonable target.
Meanwhile Madagascar: Escape 2 Africa (Dreamworks/Paramount) received a hippo-sized boost from its $8.1M Friday, more than doubling its haul for a $16.9M Saturday. After adding a projected $11.1M Sunday, Mad 2 will have a new 10-day cume of $118M, ranking as the all-time 4th-best 10-day total for a non-Summer animated film opening on a non-holiday. Amazingly, Madagascar 2 has a better domestic total after 10 days than this Summer's Dreamworks Animation smash Kung Fu Panda, which checked in with $117.2M at the same point in its release cycle. There is no question now that Mad 2 will finish as the all-time biggest grossing non-Shrek movie in the history of Dreamorks Animation, and $220M-$225M domestic is possible.
STUDIO 3-DAY ESTIMATES
1. NEW – Quantum of Solace (Sony) – $70.4M, $20,400 PTA, $70.4M cume
2. Madagascar: Escape 2 Africa (Dreamworks/Paramount) – $36.1M, $8,888 PTA, $118M cume
3. Role Models (Universal) – $11.7M, $4,185 PTA, $38.1M cume
4. High School Musical 3: Senior Year (Disney) — $5.87M, $1,836 PTA, $84.3M cume
5. Changeling (Universal) — $4.24M, $2,240 PTA, $27.6M cume
6. Zack and Miri Make a Porno (Weinstein) — $3.2M, $1,448 PTA, $26.5M cume
7. Soul Men (MGM) – $2.42M, $1,186 PTA, $9.14M cume
8. The Secret Life of Bees (Fox Searchlight) — $2.4M, $1,186 PTA, $33.6M cume
9. Saw V (Lionsgate) — $1.79M, $894 PTA, $55.4M cume
10. The Haunting of Molly Hartley (Freestyle Releasing) – $1.64M, $1,039 PTA, $12.6M cume
11. Beverly Hills Chihuahua (Disney) – $1.53M, $951 PTA, $90.8M cume
12. Eagle Eye (Dreamworks/Paramount) – $1.53M, $1,267 PTA, $98.8M cume