Judd Apatow's Funny People Teaser Poster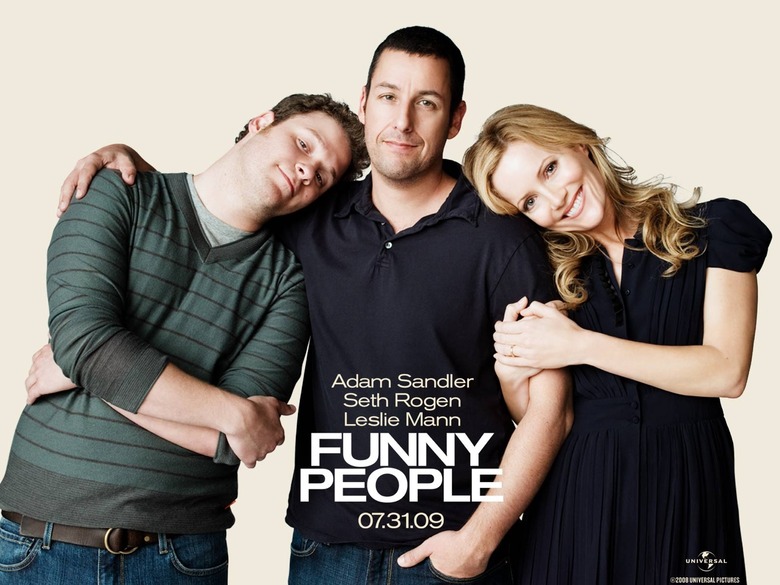 Universal Pictures has released the first teaser poster for Judd Apatow's upcoming dramedy Funny People (read all the juicy details about the film's plot here). The film is still shooting, and yes, it is unusual for a teaser poster to be released this early during production.
The reason is that Apatow and Universal are holding a contest for one person to win a walk-on role in the film. Full press release and information below.
MYSPACE PRESENTS CONTEST FOR THE JUDD APATOW FILM "FUNNY PEOPLE"
One Lucky Fan Will Win Walk-On Role in the Upcoming Film Starring Adam Sandler, Seth Rogen, Eric Bana, Jonah Hill and Jason Schwartzman
Fans of Knocked Up, The 40 Year Old Virgin, and Superbad take note –
MySpace, the world's premier social network, and Universal Pictures are pleased to announce an exclusive contest for Judd Apatow's highly anticipated film Funny People. Beginning today, the MySpace community can enter to win a walk-on role!
To enter, contestants must log into MySpace and friend the Funny People official MySpace page http://www.myspace.com/funnypeople. Then in 100 words or less, users must leave a comment explaining why he or she should win the role. The deadline for submissions is December 8, 2008. Winners will be judged on quality of expression, originality, and enthusiasm.
Funny People is slated for a summer 2009 release and features an all-star comedy ensemble including Adam Sandler, Seth Rogen, Eric Bana, Jonah Hill, Leslie Mann and Jason Schwartzman.