Exclusive Set Visit! HBO's Eastbound And Down With Danny McBride, David Gordon Green, And Ben Best. (Cameo By Gina Gershon)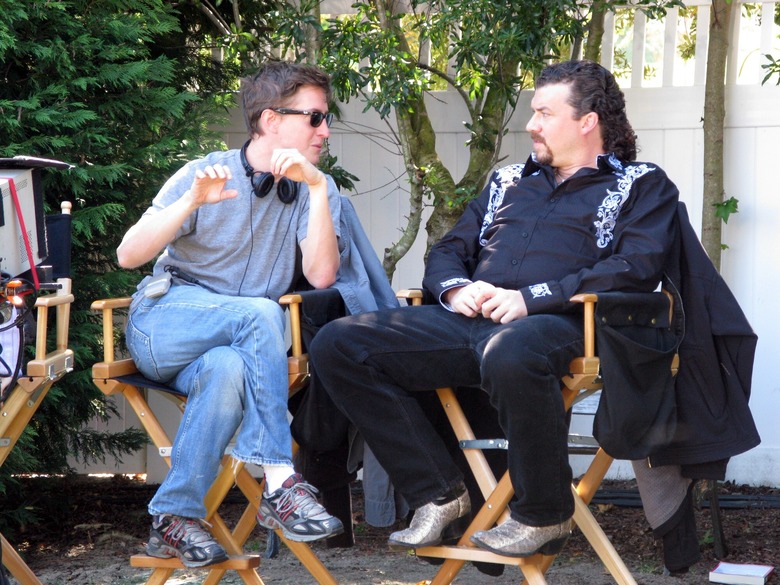 We may receive a commission on purchases made from links.
Pulling into the suburbanish neighborhood of Marsh Oaks in Wilmington, North Carolina, one would not expect this quiet enclave to be ground zero for an American Comedy Valhalla, but surprise, surprise. On the sunny backyard patio of an upscale home, a camera is rolling as Pineapple Express director, David Gordon Green, casually pitches one-liners to Danny McBride. His suggestions are incredibly vile.
"Okay Danny, now say 'she's my cum dumpster,'" says Green, with a focused smirk, his moderately tired eyes hidden beneath a pair of Ray Bans. "She's my cum dumpster," delivers McBride with deadpan redneck aplomb, referring to his date, the local floozie who's standing nearby and currently flirting with a large, black male. "I put a lot of s*** into her." I'm standing a few feet away, hearing this ribald improv through a headset, surrounded by the cast and crew of Eastbound and Down. Nobody is laughing—professionalism aside—because everyone knows these lines are funny as s***, the funniest s*** you can imagine. Airing in February on HBO, this new original series from the all-star creative team behind The Foot Fist Way, which also includes Will Ferrell and Adam McKay, looks to do for Southern stereotypes what Larry David did for rich neurotics burdened with follically-challenged cul-de-sacs.
"This is not some Blue Collar Comedy Tour s***," laughs McBride, during a break. "I like being in the South, I was born here. We're having a f***ing blast and if we could, I would seriously make every movie in Wilmington. This is where we want to be. When we started shooting, we didn't want a bunch of kids from Burbank putting on f***ing Southern accents.
"The way the South is portrayed in Hollywood, they shoot it in Van Nuys, and everyone yuks it up. And in places like New York, that's just what the South is. But to us, that's just insulting. It's like they're scraping the tip of the ice berg of what the region is all about. It's too easy."
The coastal city of Wilmington remains off the map to the casual moviegoer, but in the film industry it's oft-referred to as "Hollywood East." In the early '80s, mega-producer, Dino De Laurentis, brought the Drew Barrymore cult flick, precociously entitled Firestarter, to the region, and ended up permanently setting up shop. If you resided here in the '90s, you might have heard things like, "I saw Katie Holmes getting a haircut," "Brandon Lee got shot!", "Steve Buscemi got stabbed...at a bar," and "Vince Vaughn got banned. Good." Tourists still partake in a local Blue Velvet tour. Today, the city's major studio, EUE Screen Gems, is in the midst of constructing the largest soundstage east of California, in addition to a massive $175 million water tank for blockbuster features. The buzz is back, making Eastbound even more of a celebration.
For those of you who haven't illegally downloaded the show's leaked pilot—McBride's lines like "You mean, Jew York?" and "You're F***ing Out!" were drunkenly quoted to me by local film students during my barhopping seshes in "Wilmywood"—in the series McBride plays Kenny Powers, a former champion Major League Baseball pitcher with a major league penchant for cocaine and soundblasts. And banging prostitutes wearing the Scream mask. WTF? Reduced to a simmering Kid Icarus in denial, Powers moves back home to North Carolina with his older brother and his family.
With America's economy in the proverbial s***ter in real life, Powers's rude awakening in the series will likely pack an extra punch. All he has left is a storied ego and one last piece of materialistic excess in the form of a customized cheetah-accented jetski—referred to on set as the "Panty Dropper"—leaving him to reluctantly take a gig as a P.E. teacher. A solid ensemble cast fills out the school's faculty including Katy Mixon, Steve Little, and comedian Andrew Daly (UCB, Mad TV). But curb the sighs in regards to a redemptive and predictable "smartass students teach the smartass teacher" arc...
"F*** formula. That's what we're all about. There is no formula. You don't have to like the main character," says David Gordon Green, dissing The Writer's Journey, inside his humid-as-f*** trailer. "Look at most of the great movies and comedies, they follow their own beat. This show has a lot of traditional narrative devices that do not necessarily play out in traditional narrative ways. We're alluding to all of those points of the hero's journey...and then we're decapitating them. We f***ed the textbook over on this one."
"We're dealing with fame," continues Green, "and it seems that so many people think they're going to live forever...You know, these people who are on the cover of every magazine and can't get through airport security, and then one day, nobody recognizes them anymore; and they're back in the line with everyone else. That bitterness becomes a seething wound and this show is a comedic exploration of how Kenny—everyone Kenny touches he puts back to their place in his childhood. And by dealing with him, they revert into that dynamic, be it his brother, his ex-girlfriend: By the end of episode three, this infantile Hollywood-like behavior has spread throughout this 4x4 culture. [laughs] This is the South at its funniest and this is what we know."
When I arrived on set, I expected to interview Jody Hill, who directed, co-wrote and co-starred with McBride and co-star/writer/producer, Ben Best, in the gang's first ode to the contemporary, marginalized anti-hero, The Foot Fist Way. Completed in 2006, just a few hours away in Charlotte, Hill's indie didn't see release until this summer; by the time it quietly reached theaters, the flick had already solidified McBride as one of the most original lead actors and writers working in comedy today.
However, it turns out that Green is now directing the majority of the show's six episodes, while Hill is wrapping up Observe and Report (pegged by me as the darkhorse classic comedy of spring '09). Hill was scheduled to arrive shortly thereafter to helm the finale ep, and McKay (Talladega Nights, Step Brothers) also directed an episode. Originally, Will Ferrell was slated to contribute his first-ever gig behind the camera, but he got sidetracked rehearsing his 2009 George W. Bush stage show. He had just flown out to do SNL while I was there. In Eastbound, Ferrell appears as an "alphamale owner of a local BMW dealership" named Ashley Schaeffer who sizes up dicks with Powers (probably not literally).
Green is candid. Everyone on this set is. Half of my interviews contain party stories and crazy s*** that was sworn off the record. While riding back from craft services, Green semi-dismissed a well known ensemble actress unrelated to the show as "...or whatever her name is." Funny. When I ask if East Bound's half-hour episodes and UK-inspired six-episode season will leave viewers frustrated for real depth a la Entourage (RIP), he grins and quickly says, "No. It's not like that." And then, as if he's cutting a taut line, "And I've never watched Entourage." What about the divisive Southern accents on HBO's vamp-hit, True Blood, which is set in Green's home of New Orleans? "I can't watch that show."
This is Green's first time directing for TV, in addition to directing Ferrell, who at one point was slated to star in his long-planned adaptation of A Confederacy of Dunces. That once-upon-a-film is still a painful subject, a project that's "caught up in politics that has nothing to do with any of [us], but if I can't do it, nobody else should be able to."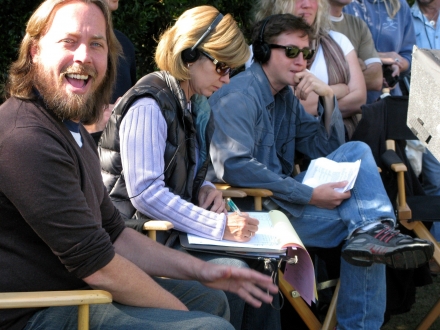 If this set was a keg party, then Mr. Ben Best (above, far left, you guessed?) would be the dude who invites you to smoke a joint in another room (figuratively speaking). In Eastbound, he plays a bartender/Widespread Panic roadie named Clegg who supplies blow and steroids to Powers in a dive called Shaboom's. The actual bar is called The Bluepost, and, uh, it's pretty easy to pick up birds there. In The Foot Fist Way, Best legendarily played Chuck "The Truck" Wallace, a hard-partying TaeKwonDo thespian loosely inspired by American Ninja's Michael Dudikoff.
The dude habitually reads Slashfilm and we spent a good 30-minutes comparing—thematically and financially—Foot Fist to There Will Be Blood (consensus: both were poorly distributed and marketed by Paramount Vantage in a major league way. Both are works of, albeit, different strokes of genius with main characters tangling to the point of absurdity with masculine burdens and existential crises. Both are misunderstood by many dolts, etc.). As a scene is being filmed indoors, Best whispers the following...
"I mean, the best part of being here is not having to deal with 20 f***ing suits from L.A. standing outside while we're filming. You know? I don't even understand THAT logic. I don't understand the logic of the f***ing so-called 'suit' thinking: 'Let's just go stand around with our f***ing Blackberries.' This is the dream."
Yeah, he actually said S-U-I-T. I cannot recall ever hearing that euphemism spoken on another set. Best generously namechecks everyone on the shoot, because he went to university with nearly all of them at the North Carolina School of the Arts: Green, McBride, Hill, dudes like Tim Orr, the show's cinematographer who worked on Sex Drive, The Baxter, and all of Green's films, including All the Real Girls. Even their pal, director, Craig Zoebel (Great World of Sound), suddenly appears mid-conversation in the backyard to chat. During breaks, the crew plays rounds of Bagg-O next to a pool. The "Hollywood, Pfffft" vibe is ubiquitous...Wanye Kramer from the Mc5 is contributing tunes.
"There was a night when we were all on our senior trip in college," says Best, "and we were on Mulholland Drive, taking a piss all over the f***ing street. Danny and me and everyone is screaming 'F*** L.A.' and reassuring each other that we were not going to turn into those douchebags. And thankfully—except for Danny—none of us have. [laughs]"
"I'm not going to lie and say I'm a big fan of Los Angeles. It's just vacant. It can be soulless as a motherf***er. You know what I mean. Nothing new, but we get out there: I'm like who are these people? What am I doing here? I start to feel gross. People want to call us something like the North Carolina Posse? We're so cool with that. We've got all these talented guys coming out who worked with us on The Land of the Lost (2009) and they're all about the scene here. I mean, we all know we can only get away with doing this type of show once."
In person, Danny McBride is zen, if zen was clad in black jeans, a black Western button-down with embroidered flair, a turquoise Native-American wolf necklace, and a well-conditioned mullet that makes you want to tend to a mother's fern. The guy co-starred in two $100 million blockbuster comedies last summer, and it's like, it ain't no thang. I mentioned some (already infamous) local bar stories parlayed to me during my trip here involving him and Brooke Shields' husband, producer Chris Henchy, and he slowly rolls his eyes like two moons that are undercover bulls*** detectors. When his pupils finally cease rotation—seconds, hours? later—they lock on me. Oh f***, what did I say wrong? "Yeah, that's him over there," he says, pointing with his thumb. LOLs. "Yeah, for the duration of the shoot, there's been a thin line between when the shooting stops and the drinking starts."
So, what are his thoughts on Kenny Powers?
"I'm not pulling from much personal s*** in this, unfortunately," jokes McBride. "I wish I was like Kenny Powers. When we wrote this, we really just wanted to do our take on a weird American epic modern hero. He has all the qualities that an epic hero should, but they're only the worst qualities. It's completely ass backwards. He's sort of the current state of the modern American hero."
"What's so funny, is that Jody, Ben and myself, we're not into sports at all," McBride continues. "We're movie guys, music guys. We don't follow any f***ing sports teams. I don't know s*** about baseball or football, any of that s***. So, when we wrote this, this is from the perspective of what baseball seemed like to us. What would pop out to us were guys like John Rocker and all the others. We were like, 'God, look at the state of this, this is America's Sport and there are all of these f***ing assholes who use steroids.' Kids look up to them, buy their cards and these guys—not all of them—but they're not hard to spot."
Throughout my visit, The Office (UK) is brought up and alluded to a lot...
"What appeals to me is just filming Danny and letting him be ridiculous as this off-the-wall character," says Green. "This show is highly improvised, and it follows the downward spiral of this hated character until you kind of sympathize with him and laugh with him. It's pretty complex. We're shooting a week an episode: 30 pages of content every week. It's like shooting a 150-page movie in five weeks. Every ep picks up right where the last one left off. It's pretty tight."
The sun is gone, and suddenly I realize that I'm most likely watching the rather intense climax of the entire first season live. (The core team has already discussed some ambitious, possibly international, ideas for a second season). Some of the higher-ups are apparently not psyched that I'm privy to these scenes—I'm told to forget what I'm watching on the monitors. I walk over to give Ben Best a pound before I leave and this girl turns around. It takes me a second to realize that it's Gina Gershon, who evidently appears in later episodes. As I'm contemplating a way to convince her to call me "Larryyyy," she tells me that she likes my Tim & Eric Awesome Show, Great Job! shirt. Showgirls was the first movie I purchased used online on VHS (TMI: Gummo was the second), and she is even hotter, this instant, in person. Her lips still resonate in my brain like South Beach shimmering on 'shrooms. I said something pretty stupid and she laughed.
And then, suddenly, Danny McBride barrels through a brightly-lit hallway inside the house. The shoot's almost a wrap. It's late. He's filling an entire doorframe like a threat (as he does memorably in the pilot after a huge coke binge). He's staring indirectly in my direction. I'm actually a lil' shook. The publicist escorts me out and hails me a production van. As the driver pulls outs she mutters, "These seem like such nice people. I heard this TV show is supposed to be really funny." "Yeah," I say, ignoring text messages, etc. "This show is going to be f***ing awesome."
Hunter Stephenson can be reached at h.attila[@]gmail.com. Or followed: Twitter.
Photographs from set visit: Fred Norris/HBO.
Special thanks to Diego. Thanks to the ILM's Rafff, Jimmy, Hilary, CLH, ZTS, Hans, EUE Screen Gems, Lula's, and Bluepost Billiards.