Twilight: EW Covers, Advance Ticket Sales And Tour Dates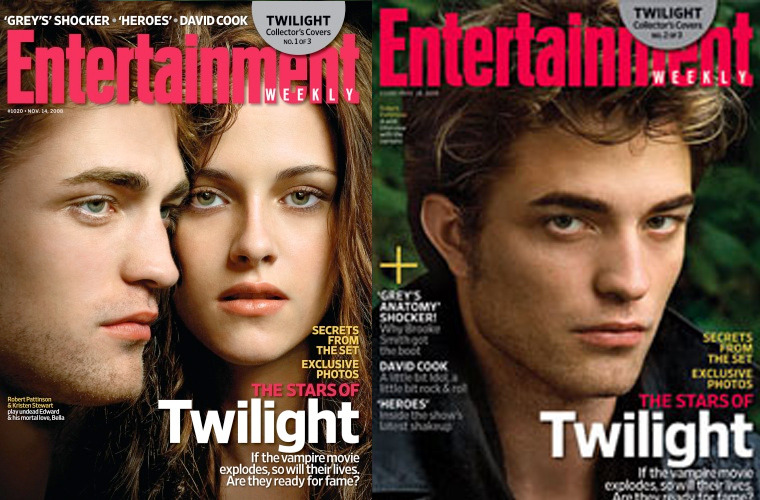 Summit's marketing for Twilight has hit high gear. Next week's Entertainment Weekly will have three collectible covers – one featuring Robert Pattinson, another featuring Kristen Stewart and a third featuring both of them. You can see two of the covers above. Thanks to EW and StephenieMeyer.
Fandango is reporting that nearly 100 Twilight screenings are already sold out. The film currently accounts for 63% of ticket sales on the advance ticket sales website, outpacing High School Musical 3's sales records at the same point in the release cycle.
Cast members from the movie will be appearing in citied around the United States. Check the full listing after the jump.
Be one of the first people to purchase the Twilight Tour T-Shirt from a Hot Topic store at one of the locations listed below and receive a wristband that guarantees your place in line to meet Edward, Bella, Jacob, Victoria or Laurent!  After the signing, they will be hanging out briefly to answer questions about the movie.
Robert Pattinson ("Edward")
November 10th – San Francisco – Stonestown Galleria at 3251 20th Ave. San Francisco
November 11th – Dallas – Dallas Galleria at 13350 Dallas Parkway, Dallas
November 12th – Chicago – Orland Square Mall at 288 Orland Square Mall, Orland Park
November 13th – Philadelphia – Plaza at King of Prussia at 160 N. Gulph Rd, King of Prussia
November 14th – Boston – Square One Mall 1277 Broadway, Saugus
Kristen Stewart ("Bella")
November 13th – Washington DC – Fair Oaks at 11923-U Fair Oaks, Fairfax
November 14th – New York / New Jersey area – Garden State Plaza at One Garden State Plaza, Paramus
Taylor Lautner, Edi Gathegi and Rachelle Lefevre ("Jacob," "Laurent" and "Victoria")
November 10th – Seattle – Southcenter Mall at 633 Southcenter Tukwila, WA
November 11th – Denver – Park Meadows Mall at 8405 Park Meadows Center, Littleton
November 12th – Phoenix – Fashion Square at 7014-590 E. Camelback Rd, Scottsdale
November 13th – Houston – Location To Be Confirmed
November 14th – Minneapolis – Mall of America at168 N. Garden, Bloomington
November 15th – Miami – Shops at Sunset at 5701 Sunset Dr., South Miami