Fanboys Movie Trailer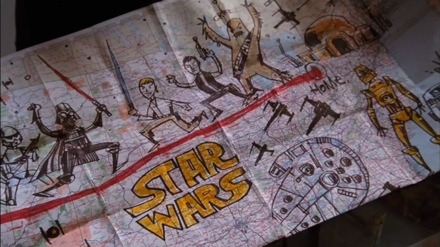 The Weinstein Co has released a new trailer for Fanboys. Set in 1998 the film, starring Jay Baruchel, Dan Fogler, Sam Huntington, Chris Marquette, and Kristen Bell, comes a comedy that follows a group of young, passionate Star Wars fans on a cross-country quest to break into George Lucas' Skywalker Ranch and watch "Star Wars: Episode 1- The Phantom Menace," before it's released.
I had the opportunity to finally see the film at Fantastic Fest 2008. It's not a great film, but I'm sure that most geeks/fanboys will find something to love about this road trip comedy. And in its best moments, its a love letter to fandom. The new trailer isn't the best, but it does give you a good idea of what to expect. I love how they announce the cameos in the trailer, not even by the actors/actresses real names, but by the Star Wars characters they played in the films. And the fact that Kevin Smith is billed as "the guy from Die Hard 4" is classic. I would be interested to hear what you guys think in the comments below.
[flv:http://bitcast-a.bitgravity.com/slashfilm/trailers/fanboys1.flv 470 264]
Check out the trailer in High Definition on Yahoo. Fanboys hits theaters on February 6th 2009.