Box Office: Zack & Miri Rebounds With $10.6M For #2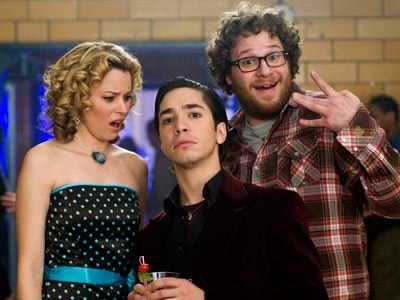 High School Musical: Senior Year (Disney) has confound the so-called "experts" again. HSM3 may be up as exponentially Saturday, from its soft Friday, and the Kenny Ortega-directed musical may reach $15M for the weekend. All of my numbers for the weekend that I published on Friday (and everybody's weekend projections) were too low.
Halloween lands on a Friday only once every 7 years, so there is not a lot of data to draw from, but "trick or treating" completely wiped out High School Musical 3 and damaged the performance of every movie Friday. In terms of projecting the weekend, you almost need to throw the day out and treat Saturday and Sunday separately. So, HSM3 grabs $1.7M on Friday (down 90% from last Friday's $16.5M), then Saturday and Sunday come in more in line with expectations. Let's say $8M Saturday (down 47% from last Saturday's $15.3M) and $5.2M today (down 47% from last Sunday's $9.7M) for a $15M take. That's a whole lot better than the $9.5M I originally projected Friday.
Meanwhile, the news was bad for Zack & Miri Make a Porno (Weinstein), but quite a bit better than it could have been. I forecasted a $6.9M 3-day and 4th place finish after its soft Friday, and it will wrap up the weekend at #2 with about $10.7M. Still, the movie will not get to $30M domestic, and competing studios tell me that Weinstein believed that this Kevin Smith-directed comedy could finish in the $80M range.
The rest of the top 5 will be Saw V (Lionsgate) with a possible $10.11M, Clint Eastwood's Changeling (Universal) with a likely $9.4M and Freestyle's The Haunting of Molly Hartley with about $6M.
Here's what I wrote Friday night about Changeling:
I am a huge Eastwood fan, but Changeling was a big disappointment. Jolie's performance is overwrought, and I can "see all the strings", the usually-good Jeffrey Donovan has an odd 1930's speech pattern while Amy Ryan (an Oscar nominee for Gone Baby Gone) plays it with a present-day feel and John Malkovich is at his affected best (too much at times). It is a hard-to-watch 2 1/2 hours, and I find it dubious to suggest that this one will have much of an awards-season run. The average Eastwood fan will walk out of Changeling saying, "Bring on Gran Torino."
Needless to say, I am not a big fan of the movie.
One other look-ahead you may have missed. Quantum of Solace (Sony) opened Friday in the UK and it shattered the all-time opening day box office record in the territory. As I wrote over the weekend:
I think it is safe to predict a $50M opening weekend for the Sony release with first week sales (Friday-thru-Thursday) an estimated $66M. The second weekend for the new Bond will likely be in the $29M-$33M range, which would mean a drop of only 35%-40%, and Quantum may be at $135M domestic by the Monday after Thanksgiving.
FINAL 3-DAY ESTIMATES
1. High School Musical 3: Senior Year (Disney) – $15M, $4,137 PTA, $61.7M cume
2. NEW – Zack & Miri Make A Porno (Weinstein) – $10.68M, $3,905 PTA, $10.68M cume
3. Saw V (Lionsgate) – $10.11M, $3,278 PTA, $45.83M cume
4. Changeling (Universal) – $9.41M, $5,086 PTA, $10.08M cume
5. NEW – The Haunting of Molly Hartley (Freestyle) – $6M, $2,262 PTA, $6M cume
6. Beverly Hills Chihuahua (Disney) – $4.75M, $1,581 PTA, $84.06M cume
7. The Secret Life of Bees (Fox Searchlight) – $4M, $2,483 PTA, $25.28M cume
8. Max Payne (Fox) – $3.7M, $1,443 PTA, $35.55M cume
9. Eagle Eye (Dreamworks/Paramount) – $3.4M, $1,694 PTA, $92.53M
10. Pride and Glory (Warner Bros) – $3.26M, $1,261 PTA, $11.61M cume
*RockNRolla (Warner Bros) – $1.55M, $1,877 PTA, $2.17M cume