3-Disc Special Edition Of WALL-E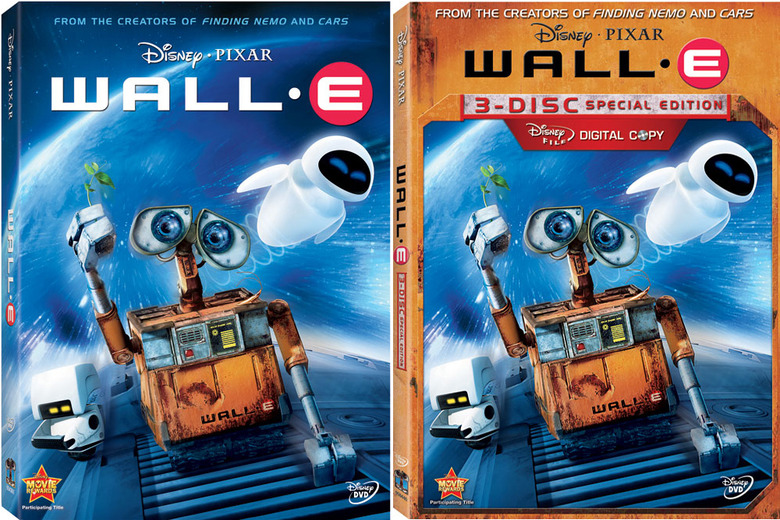 We may receive a commission on purchases made from links.
Disney is releasing WALL-E on Blu-ray and DVD on November 18th. There are options for both two and three disc editions. You can pre-order any of the releases on Amazon. Check out the official press release after the jump.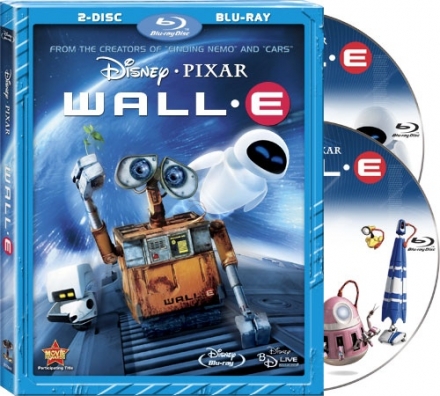 BURBANK, California, November, 2008—The year's most acclaimed and original film, an intergalactic story of the lovable robot WALL•E, comes home to Blu-ray hi-def and DVD — November 18, 2008, courtesy of Walt Disney Studios Home Entertainment, just in time for the holidays. Disney•Pixar's hilarious box-office favorite transports viewers to another galaxy with five different versions. Consumers can choose from two exciting Blu-ray disc versions and from three standard definition DVD versions. Each home entertainment release contains the feature film and a payload of fantastic bonus features, including an exciting all-new animated short film BURN•E, the story of a stalwart repair robot by the same name who is determined to do his job, but is foiled at every turn by WALL•E's adventures aboard the Axiom..*The stunning Blu-ray release (both two and three-disc versions) of WALL•E offers audiences the chance to really enjoy the true colors, depth and sound exactly as the filmmakers envisioned it! Additionally, the Blu-ray Disc owners in the U.S. have access to Disney BD-Live Network that allows viewers to combine some of today's most popular interactive communications platforms – chat, video messages, online interactivity, communal gaming and more – with their movie watching experience and provide exclusive access content to receive sneak-peaks of upcoming trailers, downloadable extras and more...WALL•E is an out-of-this-world action-adventure filled with heart and humor that follows an extraordinary cast of characters on a fantastic journey across the universe. Oscar®-winning director Andrew Stanton's (won Best Animated Feature, Finding Nemo 2003) beautiful story of WALL•E is a love letter to the Golden Age of sci-fi films. The film's cast of exciting new characters has thrilled and delighted movie-lovers of all ages while once again showcasing Pixar's amazing abilities to create entire new worlds.WALL•E's voice cast includes Jeff Garlin ("Curb Your Enthusiasm"), Elissa Knight (Cars), Sigourney Weaver (Alien), John Ratzenberger (Toy Story), Kathy Najimy ("King of the Hill") and Fred Willard (Chicken Little). Academy Award®-winning sound designer Ben Burtt (the Star Wars and Indiana Jones franchises) provides the endearing voice of WALL•E, the little robot who never quits.In its theatrical release, WALL•E wowed critics everywhere with its adventurous story, combined with cutting-edge animation and an imaginatively detailed vision of the future. Claudia Puig of USA TODAY praises the film's "breathtaking visuals" and gives it "4 out of 4 stars." "WALL-E is a movie you want to discover," enthuses Owen Gleiberman of Entertainment Weekly. The Wall Street Journal's Joe Morgenstern calls it "A stunning tour de force," while Boston Globe film critic Ty Burr, dubs the film "A major visionary work, a sci-fi parable of astonishing scope and depth that is anchored by an adorable bucket of bolts."WALL•E SynopsisAfter hundreds of lonely years of doing what he was built for, WALL•E (short for Waste Allocation Load Lifter Earth-Class) discovers a new purpose in life (besides collecting knick-knacks) when he meets a sleek search robot named EVE. EVE comes to realize that WALL•E has inadvertently stumbled upon the key to the planet's future, and races back to space to report her findings to the humans (who have been eagerly awaiting word that it is safe to return home). Meanwhile, WALL•E chases EVE across the galaxy and sets into motion one of the most exciting and imaginative comedy adventures ever brought to the big screen. Joining WALL•E on his fantastic journey across a universe of never-before-imagined visions of the future, is a hilarious cast of characters including a pet cockroach, and a heroic team of malfunctioning misfit robots.Exciting WALL•E DVD Bonus FeaturesSingle Disc DVD:· Presto – The Pixar Animation Studios original theatrical short that accompanied the WALL•E theatrical release, about a star magician's ego that provokes some clever revenge from his neglected rabbit co-star.· Animation Sound Design: Building Worlds from The Sound Up – Ben Burtt, the acclaimed Oscar-winning sound designer, introduces viewers to the art of sound design using examples from WALL•E and historic footage of the early Disney sound effects masters at work.· Audio Commentary by WALL•E director Andrew Stanton.· Deleted Scenes, Easter Eggs and More...2-Disc DVD (Canadian French Only) includes all of the above, plus:· Robots – Find out everything about the film's robot heroes, including hilarious web vignettes, the names and functions of all of WALL•E's malfunctioning misfit robot friends and an interactive storybook packed with kid-friendly challenges.· Behind the Scenes – Six exclusive featurettes give fans an insider's view of the making of WALL•E, including the film's visual design, character development and musical score, plus the story behind the special effects challenges and a look at building the robot characters that populate the film.· Buy n Large Shorts – Straight from the BnL archives, five revealing short films provide insight into the inner workings of the company, from its humble beginnings to the intergalactic plan that launched EVE into space. Learn how to operate the Axiom, find out about the company's line of "robots 'for every need'" and hear the story behind the Earth Exit Plan.· The Pixar Story, A Documentary by Leslie Iwerks – The first in-depth look at the most influential animation studio of its time, The Pixar Storygoes behind the scenes of the groundbreaking company that pioneered a new generation of animated feature films. Academy and Emmy Award-nominated director Leslie Iwerks uses never-before-seen footage from the Pixar library, along with historic archival animation and first hand accounts by animators, studio executives, directors, producers and voice performers to chronicle the remarkable company that revolutionized an industry· Early WALL•E Development Test3-Disc DVD includes all of the above, plus:· "DisneyFile" Digital Copy – Allowing viewers to enjoy Wall·E via a computer laptop or other portable device, Walt Disney Studios Home Entertainment also is adding a special "DisneyFile" Digital Copy of the movie — enabling DVD and Blu-ray owners to receive a digital version of Wall·E in their choice of iTunes or Windows Media formats. DisneyFile Digital Copy is a fast and easy way to enjoy your favorite Disney movies, anytime, anywhere on your Mac, PC and/or compatible portable device.(Please see grid below for exact contents/differences of 1-Disc, 2-Disc and 3-Disc Standard Definition DVD releases)WALL•E Blu-ray Bonus Features:Everything on the Standard Definition DVDs, Plus...
Cine-Explore
– A fascinating viewing option in which filmmakers comment on WALL•E, accompanied by behind-the-scenes visuals, in sync with the movie.
· Geek Track – An additional commentary full of obscure references, little known trivia and lively sci-fi discussion, this pop-up silhouette in-movie feature gives viewers a peek inside the minds of some of the more passionate geeks at Pixar.· The Axiom Arcade – A retro suite of video games with a Wall•E twist, including Eve's Bot Blaster, Wall•E's Dodge & Dock, M-O's Mop-Up Madness and Burn•E's Break Through.
3D Set Fly-Throughs
–
Cut-away illustrations of the Axiom and Earth sets provides viewer access to HD set fly-throughs from ten of the film's most detailed locations.
Disney BD-Live Network – Disney's BD-Live Network is just one of the many ways U.S. movie lovers, families and loved ones can continue to stay connected and engage in their favorite movies.
o Movie Chat – Communicate with your friends on-screen using any text-enabled device such as a laptop, desktop or PDA device such as a Blackberry, iPhone or most other cell phones. Your chat session will appear over the movie and occur in real-time while watching the movie together.o Movie Mail – Blu-ray owners will be able to record a personalized video message of themselves, superimpose that capture into a pre-selected clip of the movie, and send it off to a friend, colleague or relative. This specific feature enables the WALL•E Blu-ray Disc owner to personalize a very special greeting as never before.o Movie Challenge – Users will be able to test their skills against online players in a synchronized, real-time, online trivia game while watching WALL•E. There is always a Movie Challenge game in progress to join, regardless of the time of day.o Disney Movie Rewards Live – WALL•E Blu-ray owners will be able to accumulate reward points by participating in any Disney BD-Live Network activity. In return, viewers can redeem points for exclusive content such as ringtones, avatars, previews of upcoming movie trailers, downloadable extras and many more exciting possibilities.(Please see grid below for exact contents/differences of 2-Disc and 3-Disc Blu-ray releases)The suggested retail price for Wall·E on Single Disc DVD is $29.99 (U.S.) and $35.99 (Canada). The Double Disc DVD is $41.99 (Canada French Only). The Triple Disc DVD is priced at $39.99 (U.S.) and $46.99 (Canada). The Blu-ray Double Disc retails for $35.99 (U.S.) and $45.99 (Canada). The Blu-ray Triple Disc is $40.99 (U.S.) and $54.99 (Canada).
Content
DVD
1- Disc
*DVD
2 – Disc
DVD
3 – Disc
BD
2 – Disc
BD
3 – Disc
FEATURE & Other Items
"WALL•E" Feature
X
X
X
X
X
"Presto" Theatrical Short
X
X
X
X
X
"BURN•E" DVD Exclusive Short
X
X
X
X
X
Audio Commentary by Andrew Stanton
X
X
X
X
X
Cine-Explore
In-movie mode in which filmmakers comment on "WALL•E," accompanied by behind-the-scene visuals in-sync with the movie.
X
X
"BURN•E" Storyboard PIP
PIP presentation of the short and its storyreel version. Viewable against the 5.1 or 2.0 mix of the film.
X
X
Geek Track
This pop-up graphic in-movie mode points out fun references in the film while Pixar's geek squad makes amusing comments.
X
X
Easter Eggs
Geek-o-Rama
"WALL•E" inspired lively discussions among some of the biggest geeks in the universe. In this taped confessional from Pixar artists we learn what science-fiction, fantasy, and comic book influences inspire and drive their creative processes.
X
X
X
X
X
Early "WALL•E" Title Test
X
X
X
X
X
Early "WALL•E" Development Test
X
X
X
X
ROBOTS (For Families)
WALL•E's Treasures & Trinkets
A short video montage of the funniest web vignettes and other original animation created for "WALL•E" promotional purposes.
X
X
X
X
Bot Files
Discover the names and functions of WALL•E's robot friends.
X
X
X
X
"Lots of Bots" Storybook
This interactive storybook comes to life after solving kid-friendly challenges. VO: John and Mary
X
X
X
X
*Indicates Canada French Only
Content
DVD
1- Disc
*DVD
2 – Disc
DVD
3 – Disc
BD
2 – Disc
BD
3 – Disc
ROBOTS (For Families) –
continued
Sneak Peek: WALL•E's Tour of the Universe
(US Only)
Join WALL•E on his own private tour of the Universe through the World-Wide Telescope.
X
X
X
X
X
The Axiom Arcade
This retro suite of video games puts a "WALL•E" twist on some old favorites:
X
X
EVE's Bot Blaster – Help EVE destroy security bots as they approach.
X
X
WALL•E's Dodge & Dock – Help WALL•E avoid space trash as he tries to land on the Axiom.
X
X
M-O's Mop-Up Madness – Help M-O clean up WALL•E's dust tracks before security bots arrive.
X
X
BURN•E's Break Through – Help BURN•E get to the ship's top level so he can make repairs.
X
X
HUMANS (For Film Fans)
Deleted Scenes
Intro + "Garbage Airlock" + Outro
In this original Garbage Airlock scene, it's WALL•E who must heroically rescue EVE from being ejected from the ship, and then revive her before she dies.
X
X
X
X
X
In this alternate revelation scene, WALL•E presents the plant to EVE, and she realizes she must deliver it to the Bridge for analysis.
X
X
X
X
X
Intro + "Secret Files" + Outro
An abandoned-concept model of Auto discovers a secret transmission from Earth hidden deep in the Axiom computer that reveals the fate of mankind.
X
X
X
X
Intro + "Docking" + Outro
An abandoned-concept "gel" design of the Captain awakens for his morning rituals while the probe ship returns with unexpected cargo.
X
X
X
X
*Indicates Canada French Only
Content
DVD
1- Disc
*DVD
2 – Disc
DVD
3 – Disc
BD
2 – Disc
BD
3 – Disc
HUMANS (For Film Fans) –
continued
Behind the Scenes
Animation Sound Design: Building Worlds From The Sound Up
An introduction to Ben Burtt's sound design work on "WALL•E," contextualized against animation sound design from the early Disney films. The custom sound-design process is illustrated with examples from both "WALL•E" and historic footage of the Disney sound effects masters at work.
X
X
X
X
X
The Imperfect Lens: Creating the Look of "WALL•E"
Andrew Stanton, inspired by an era of Sci-Fi filmmaking marked by the epic scope of both story and design, wanted to recreate this aesthetic in the medium of animation. As his team worked to bring this directive to the screen, they found themselves translating the inexact science of Earth-bound cinematography into the precise world of computer animation.
X
X
X
X
Captain's Log: The Evolution of Humans
At Pixar, stories evolve. In "WALL•E," the Captain and all the other now-human characters started in a very different place. This documentary examines the dialogue between story, art and technology, using the example of the Captain.
X
X
X
X
Andrew Stanton shares a creative bond with Thomas Newman that carries over from their experiences working on "Finding Nemo." This piece will draw on Stanton and Newman's ideas about creating a score that evokes a particular sense of time and place as well as creating an emotional response in the audience.
X
X
X
X
Life Of A Shot: Deconstructing the Pixar Process
Using green screen technology, Pixar takes a weatherperson's approach to highlighting each artist's contribution in the creation of a single shot. In essence, a guided tour of the Pixar production pipeline from story artist to renderer.
X
X
X
X
A closer look at the design of the film's hero characters.
X
X
X
X
*Indicates Canada French Only
Content
DVD
1- Disc
*DVD
2 – Disc
DVD
3 – Disc
BD
2 – Disc
BD
3 – Disc
Behind the Scenes
(continued)
WALL•E's character design reflects research into the real world of robotics. Get an inside look at the history of robotics technology and the future of robotics in our day to day lives, as well as how Pixar's robot production pipeline relates to real-world robotics.
X
X
X
X
BnL Shorts
Orientation video for the captains of the Axiom. Learn about automatic pilot, navigation, star maps, passenger by-product management and duties as the Axiom captain.
X
X
X
X
A video presentation for the Buy n Large board of directors outlining the plans to launch the Axiom into space and the five-year cleanup. Featuring narration by Fred Willard.
X
X
X
X
A robot for every need, a need for every robot. Roll-out of the Buy n Large robotic product line.
X
X
X
X
The History of Buy n Large
From its humble beginnings making widgets, to creating a bright future on a clean Earth, explore the boundless commercial creativity Buy n Large has brought to your world. Featuring narration by Fred Willard.
X
X
X
X
Some say "evacuation," but we like to call it "inter-stellar recreation." This orientation, akin to an airline safety video, includes graphics for the Earth Exit Plan and a welcome orientation to your new home, the Axiom.
X
X
X
X
World-Wide Trailers
X
X
Gallery
X
X
3D Set Fly-Throughs
X
X
"The Pixar Story" by Leslie Iwerks
X
X
X
X
BD Live
X
X
Digital Copy Disc
X
X
*Indicates Canadian French Only