Fanboys Movie Poster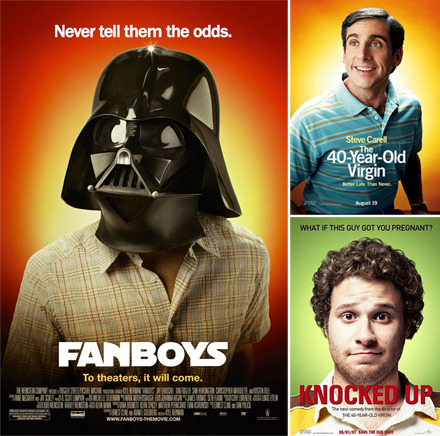 Earlier this week The Weinstein Co announced that they would be moving their Star Wars geek road trip comedy Fanboys back once again to February 6th 2009. Set in 1998 the film, starring Jay Baruchel, Dan Fogler, Sam Huntington, Chris Marquette, and Kristen Bell is a heart-warming comedy that follows a group of young, passionate Star Wars fans on a cross-country quest to break into George Lucas' Skywalker Ranch and watch "Star Wars: Episode 1- The Phantom Menace," before it's released. I got the chance to finally see the film at Fantastic Fest 2008, and while it's not a great film, its the type of movie which will be insanely enjoyable to anyone in the fanboys niche, and in its best moments, its a love letter to fandom.
The theatrical poster, which premiered on Cinematical, is a parody of the Judd Apatow posters. This might be funny if all the other comedy films didn't already steal this style already. The poster comes off as derivative rather than funny. This is the latest example of The Weinstein Co botching the marketing of this film. If I were them I would have commissioned Drew Struzan to create a poster based of the New Hope design. I know that wouldn't be original, but at least it would be interesting. Also, there are so many interesting characters and actors in this film (heck, I think Seth Rogen plays three or four different characters), but we don't see one of them on the poster. WTF?