Early Buzz: Pixar's UP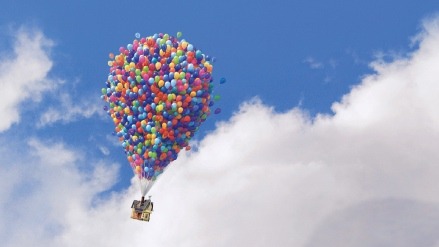 Monday night Disney held a test screening for Pixar's upcoming film Up in Portland, OR. They screened a rough-cut of the film which included a mix of storyboards, rough and finished animation. The music was temp, but all the voiceover was complete. This seems to be a regular tradition for the animation powerhouse as the Emeryville based animation studio held their first test screening of Wall-E in Portland on October 29th of last year. Lets take a look at some of the early buzz:
Larry Fire blogs: "[The film] combines a bittersweet coming of age story with an unexpected friendship." ... "[The story] was completely original but somewhat dark with many adult themes (aging, loss, separation and unfinished promises). Both my wife and I welled up at a few scenes and there is a memorable montage that depicts a couple's life together that is so poignant, even the toughest critic will be moved. There are still some very funny moments but this picture really stands on its own and is difficult to compare to its Pixar predecessors."
Another person on the IMDb message boards writes: "It is another great Disney and Pixar movie. Close to that of Wall-E. I can't wait till it is finished!" ... "It was very very funny with emotional elements. Don't worry, they did not hold back on the funny."
The Elmo Zombie on the ComingSoon message boards: "Just amazing. Even as a rough cut, I loved it! Great story and very funny. Almost on par with WALL-E. 10/10"