MLK Weekend Battle Royale: Eastwood Has A Decided Edge Over Zwick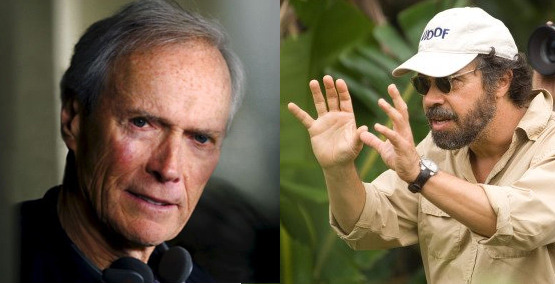 The release dates are changing like autumn leaves as studios juggle titles to both maximize box office performance and position projects for awards season. A pair of decidedly serious motion pictures with real Oscar pedigrees have both landed on Friday, January 16, the start of the long Martin Luther King Day Weekend.
Paramount staked its claim first with Defiance directed by Ed Zwick, who has won Best Picture twice as a producer with Shakespeare in Love and Traffic, but has never even been nominated as Best Director. This is a Holocaust-era story about Jewish brothers who escape Nazi-occupied Poland and join Russian resistance fighters.
The movie will Oscar qualify at Christmas, and then hit approximately 2,000 screens on January 16. Given that Defiance star Daniel Craig will be riding high with Quantum of Solace (Sony), I have a strong hunch that he has an excellent shot at being a Golden Globe nominee for Best Actor Drama when noms are released on December 11.
Easily the most mysterious movie project of 2008 is Gran Torino. Listed as "December Unset" for months, the folks at Warner Bros have finally gotten off of the proverbial "schneid" and the film will begin its platform release on December 17. With Eastwood as a cranky, old racist who reportedly comes to terms with Asians in his neighborhood, this is a tale of redemption.
Gran Torino is not the final chapter of Dirty Harry, but it may play as a symbolic and hopeful bookend to his Harry Callahan character in the same way that Unforgiven dismantled the myth of his many cowboy antihero roles. Clint has hinted that this could be his final acting role. "Yeah, it'll probably be my last...I'll be drummed out after this one," he says. He seems like a mortal lock for a Golden Globe nomination and an even stronger bet for the Oscars than Craig.
It is very hard to bet against Clint Eastwood. His career is unparalleled. Since turning 70, he has been a mainstay on Oscar night with a Best Director nomination for Mystic River, a Best Picture and Best Director win for Million Dollar Baby along with a Best Actor nomination for the boxing saga, and a Best Picture and Best Director nomination for Letters From Iwo Jima last year. While other filmmakers tend to work more infrequently and with less commercial and critical success as they age, somehow Eastwood gets better and better.
Eastwood is always an active participant in the release plan for his movies, and he and Warner Bros have played this one perfectly. Important playdates through the holidays to build word-of-mouth, and then this story of racial understanding will go wide for MLK weekend. Perfect timing. Maybe the right movie on the right weekend on the way to another Oscar run for Clint.