WTF: The Jonas Brothers To Star In Farrelly Brothers Farting Dog Movie?!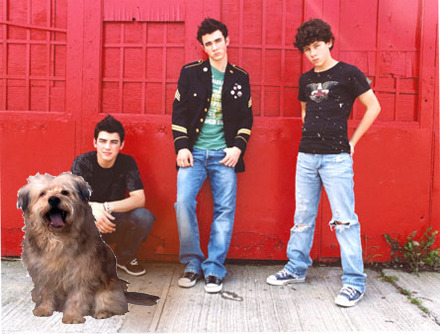 What happened to the Farrelly Brothers? I use to be such a huge fan of the brother-directing team behind Dumb and Dumber, There's Something About Mary and Kingpin, but they haven't turned out a really good film in at least 8 years (Osmosis Jones, Shallow Hal, Stuck on You, Fever Pitch, The Heartbreak Kid). Some might argue that Fever Pitch is enjoyable on the level with other generic romantic comedies, but its nothing compared to their earlier efforts.
Variety reports that The Jonas Brothers (Camp Rock) have signed on to star in Walter the Farting Dog for 20th Century Fox. While the Farrelly Brothers haven't officially signed on to direct, the film is shooting next Spring, and the Farting Dog is one of the few projects they are considering helming. Say it ain't so guys, say it ain't so!
The film will be based on a bestselling series of books by William Kotzwinkle and Glenn Murray. The Jonas brothers play musicians (a huge stretch, really) whose parents are asked to care for a dog with severe flatulence problem, by an aunt just before she passes away. Sounds like an Oscar-worthy storyline. But don't worry, the screenplay adaptation is in great hands: Alec Sokolow and Joel Cohen (not THAT Joel Cohen), the writing team responsible for Garfield, Evan Almighty and Daddy Day Camp. Yup, this one looks like a clunker from all angles.