Slumdog Millionaire: New Trailer, Poster, And Boyle Disappointed Over R-Rating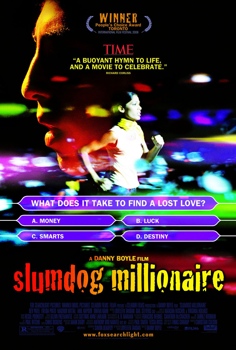 Fox Searchlight has released a new poster for Danny Boyle's Slumdog Millionaire, which you can see on the right. Anne Thompson found a teaser trailer that was released for the recent London Film Festival, which you can watch above.
Last week we ranted about the MPAA's decision to give the film an R-Rating, and a couple other websites picked up the fight. Our friends at Cinematical had a chance to talk to Danny Boyle about the decision, and he too expresses his disappointment and confirms something I had speculated about in my previous write-up: the film was shot with a PG-13 rating in mind.
"And we all agreed that it would be a PG-13 or less. And so I shot the film very deliberately to achieve that certificate, and I'm very disappointed because there's very little actual violence in the film at all. But the response was that the journey of the film was too intense — and then you think, but that's the job! What's wrong with somebody wanting to watch an intense journey? But yeah, I was very disappointed," Boyle told Cinematical.
Boyle admits that "we tried to fight [the rating]" but doesn't elaborate. I'm guessing that an appeal hearing would have delayed the film until much later this year or early next. Fox Searchlight already has to worry about Aronofsky's The Wrestler in that time frame, and obviously wants both films in theaters before the end of the year award season cut off. And understandable but disappointing decision.