Timecrimes Movie Trailer #2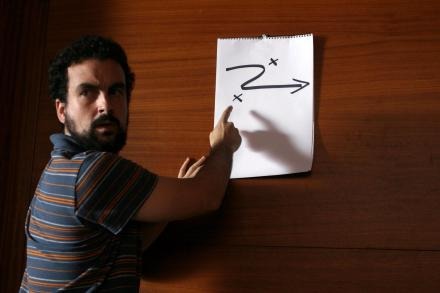 Magnolia/Magnet has released another trailer for Nacho Vigalondo's time travel thriller Timecrimes (you can check out the previous trailer here). I have yet to see the film but I've heard nothing but great things about it. United Artists is already hard at work developing a English-language remake with Children of Men scribe Timothy J. Sexton penning the script. And last we heard, David Cronenberg was interested in helming the remake. The new trailer begins with a very comical vibe to it, possibly due to the soundtrack. I've heard that the film is more sci-fi/horror than anything else. I'll be seeing the film either way as I'm a sucker for time travel flicks.
Official Plot Synopsis: Lauded short film director Nacho Vigalondo makes his feature debut with this tense, unstoppable vision of science and natural law gone awry.
Hector (Karra Elejalde) is relaxing on a lawn chair outside of his new country home, surveying the nearby hillside through a pair of binoculars, when he catches sight of what appears to be a nude woman amidst the trees. Hiking up to investigate, he is attacked by a sinister figure whose head is wrapped in a grotesque, pink bandage. Fleeing in terror, he takes refuge in a laboratory atop the hill, where a lone attendant (director Nacho Vigalondo) ushers him in to a peculiar scientific contraption. He emerges what seems to be moments later, only to find that he has traveled back hours in time, setting in motion a brain-twisting, horrifying chain of events when he inadvertently runs into himself.
Drawing from the best traditions of classic science fiction and crime fiction, TIMECRIMES plays games with the genre and the audience, giving the protaganist a Russian-doll like shell of identities that are shed so often that Hector can be playing one of any number of whodunit archetypes at any given moment as he becomes increasingly more complicit in the complicated mess that he's trying to fix.
Says director Vigalondo: "TIMECRIMES comes from my love of classic science fiction and crime stories. Writers like James Cain, Philip K. Dick, or directors like Fritz Lang. The idea of building a tragic paradox with such few elements is my attempt to going back to the classics and trying to bring back something new."
Awards: Best Film, Austin Fantastic Fest, Sundance Film Festival, Sitges International Film Festival, Fantasia Film Festival