The Wall Street Sequel That Isn't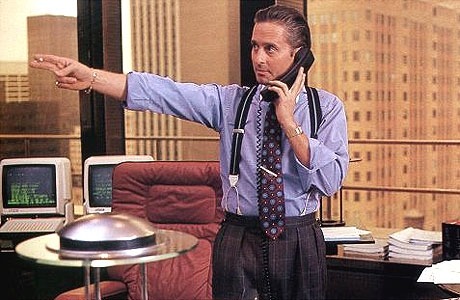 Ropes of Silicon has a 50 minute interview with W. screenwriter Stanley Weiser, but who cares about W. anymore? Weiser is the same guy who wrote Wall Street and penned a treatment for a Wall Street sequel before Oliver Stone and the film's producer parted ways.
"To make a long story short, I wrote the screenplay and Fox put it in turnaround because it was dated," Weiser told ROS. "Everything has changed and they're starting with a page one rewrite that deals with the current situation in the markets. So it won't be ready for a year and by that time the economy will have changed again so I wouldn't be too hopeful."
But what would Weiser's Wall Street 2 have been like?
"[The film takes place] in the present. Basically, he had gone to Europe, like this world trader Marc Rich. He had been making deals in Europe and then he decided he wanted to go back to New York and get back in the action. So he does his jail time."
"Gekko gets out of jail. It actually opened with Gekko getting out of jail and he's standing by a curb and a limo pulls up and he's next to a black kid, who's a prisoner, and the black kid gets in the limo. The black kid is a rapper and the limo is for the rapper. So he is left standing there on the street alone and no one knows who he is anymore."
""...The latter part was set in China and dealing with Chinese money and policing the Chinese."
I wish I could watch that movie right now. But 21 scribe Allan Loeb is busy working on a complete rewrite. Fox is hoping to fast track the film into production under the title Money Never Sleeps, but Michael Douglas has yet to sign on. Bud Fox (Charlie Sheen) will not be featured in the follow-up storyline.