Box Office: HSM3 Down 10% On Saturday, $42M Projected; Saw V Tops $30M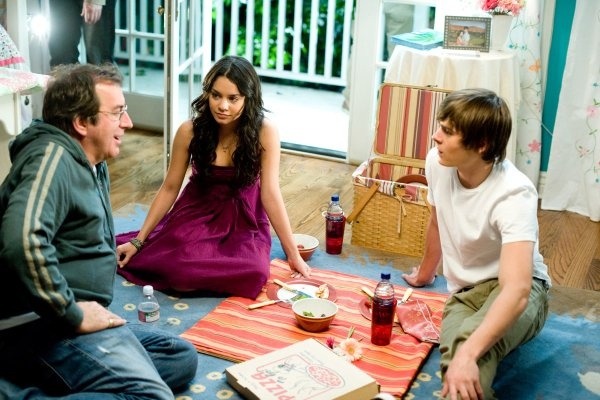 High School Musical 3 (Disney) has been a very tough movie to predict and project. My original prediction for the movie on October 22 was $35M-$38M. Everyone told me I was way too low. I went online with my Friday number on Friday night at 9:30 p.m., and it was almost dead-right (I announced $16.5M and today Disney says that number was $16.9M). The question became how would the weekend play out.
Some of my regular sources said the HSM3 would drop on Saturday because it was fueled by teens. More of them expected to see a Saturday increase because many tweens would need Mom to take them to see the movie Saturday. On Friday night, I used the latter model and projected $55M. As it turns out, High School Musical 3 dipped by about 10% on Saturday to $15.3M or so. That means a much lower 3-day number of an estimated $42M. Make no mistake. That is a huge number. Disney will get this movie to $150M, it's just a question of how.
Still it's noteworthy that HSM3 represents my own personal all-time worst 3-day projection. I released a $55M estimate Friday, and the result was $42M. That's a full 25% too high. Predictions and projections remain a "black art." No matter how long I do it, I can still be completely blindsided.
Everything else I wrote Friday night was basically right (although, Saw V did get just over $30.5M as opposed to my $29M projection).
STUDIO 3-DAY ESTIMATES
1. NEW – High School Musical 3: Senior Year (Disney) – $42M, $11,593 PTA, $42M cume
2. NEW – Saw V (Lionsgate) – $30.5M, $9,967 PTA, $30.5M cume
3. Max Payne (Fox) – $7.6M, $2,248 PTA, $29.66M cume
4. Beverly Hills Chihuahua (Disney) – $6.91M, $2,168 PTA, $78.14M cume
5. NEW – Pride and Glory (Warner Bros) – $6.32M, $2,447 PTA, $6.32M cume
6. The Secret Life of Bees (Fox Searchlight) – $5.93M, $3,641 PTA, $19.2M cume
7. W. (Lionsgate) – $5.33M, $2,600 PTA, $18.74M cume
8. Eagle Eye (Dreamworks/Paramount) – $5.13M, $2,008 PTA, $87.98M cume
9. Body of Lies (Warner Bros) – $4.06M, $1,891 PTA, $30.89M cume
10. Quarantine (Sony) – $2.55M, $1,145 PTA, $28.77M cume
*Rachel Getting Married (Sony Classics) – $929,000, $8,682 PTA, $2.83M
*NEW – The Changeling (Universal) – $502,000, $33,467 PTA, $502,000 cume
*NEW – Passengers (Sony Classics) – $185,000, $1,480 PTA, $185,000 cume
*Happy-Go-Lucky (Miramax) – $175,000, $9,211 PTA, $435,00 cume
*NEW – Synecdoche, New York (Sony Classics) – $173,000, $19,222 PTA, $173,000 cume
*NEW – I've Loved You So Long (Sony Classics) – $75,200, $7,520 PTA, $316,000 cume