Crispin Glover In Burton's Alice In Wonderland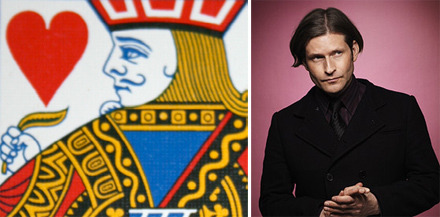 If I were to create a list of five people that should be in Tim Burton's 3D adaptation of Alice in Wonderland, Crispin Glover would probably top the list. So it comes as no surprise that Burton has cast Glover to play the Knave of Hearts.
In the original Lewis Carroll book Alice's Adventures in Wonderland, the Knave of Hearts is put on trial for robbery after he supposedly stole the Queen of Harts' tarts "and took them quite away". Alice eventually defends him after the evidence becomes more and more absurd.
This will be the second time that Glover uses Performance-capture technology in a big screen role, as he played Grendel in Robert Zemeckis' 2007 film Beowulf. Clover joins Mia Wasikowska (Alice), Johnny Depp (Mad Hatter), Matt Lucas (Tweedledee/Tweedledum), Anne Hathaway (The White Queen) and Helena Bonham Carter (The Red Queen).
source: THR