First Look: Clint Eastwood's Gran Torino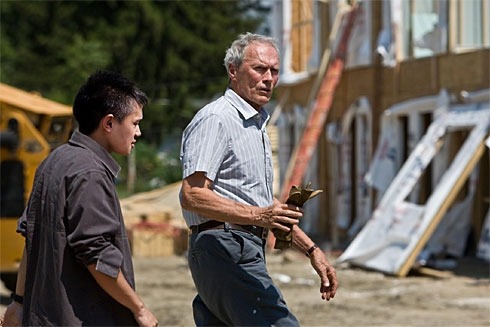 Warner Bros has finally started marketing Clint Eastwood's new action drama Gran Torino. In the film, Eastwood plays a disgruntled racist Korean War vet named Walt Kowalski, who sets out to reform his neighbor, a young Hmong immigrant teenage neighbor (played by newcomer Bee Vang), who, as part of a gang initiation, tried to steal Kowalski's prized possession: his 1972 Gran Torino.Walt ends up confronting prejudices that have isolated him. The poster shows Eastwood with his M-1 rifle in hand, standing in front of his Gran Torino.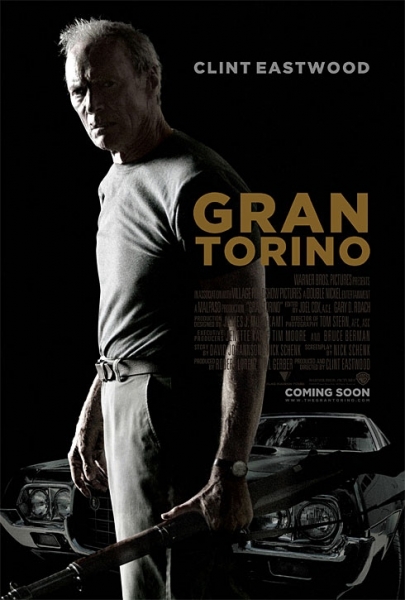 Eastwood, who says this will "probably" be his last film as an actor, tells USA Today a little bit about his character:
"He worked on the line in the Ford plant and retired and had this one car he bought himself. It's sort of a symbol of his days with the Ford plant. The M-1 is sort of a symbol of his days in the military. ... He's clinging to the memory of the war. You'll find out when you see it, some of (the memories) are not as pleasant as others. That helps make him even tougher to get along with." ... "Walt helps him get a job and helps him toughen up a bit. (Walt) doesn't work construction. He's retired. But he gets the boy in through a buddy, an old crony. They take him in and try to show him how to handle himself in life."
Warner Bros has also announced a December 17th release date for the film, which puts Torino in line for Award consideration.