Awesome New Watchmen Teaser Poster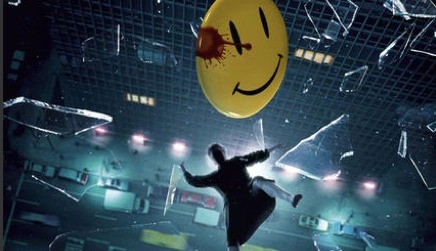 The official theatrical Watchmen teaser poster has premiered on Yahoo. If you remember correctly, Zack Snyder premiered a Comic Con exclusive teaser poster with art by Dave Gibbons in 2007, and there were also eight character posters at Comic Con 2008.
The new poster shows the shot from the early few minutes of the movie (and the frames of the comic book itself) when The Comedian (played by Jeffrey Dean Morgan) is thrown through the window. While he falls to his untimely death, the Happy-face pin with a smidgen of blood flies through the air behind him. It's probably one of the coolest pieces of footage they have shown yet. If you didn't see the extended movie trailer from the SCREAM 2008 awards, click here now.