Marvel Is Considering A Dr. Strange Movie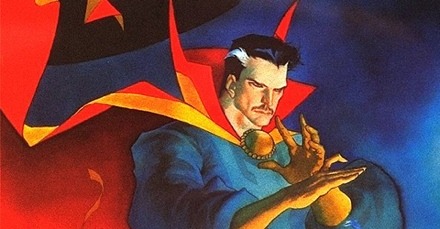 Marvel Studios President Kevin Feige told MTV News that Dr. Strange is on the short list of comic properties that they will explore after The Avengers hits the big screen.
"Very much so," Feige said. "I'd say in the next year, year and a half, as we start putting together our film slate for 2012 and 2013, I would not be shocked if we saw Dr. Strange on those lists. I love the idea of taping into the magical realm of the Marvel Universe, which is fairly significant and hasn't yet seen life on screen. It's something I'm very, very interested in."
To me, Dr. Strange has always been a C-level Marvel property. He's like a DC character stuck in the Marvel universe. Whenever he shows up in one of the stories I'm reading, I'm immediately turned off. Dr. Strange's magical powers are endless, and I usually like my superhero stories to be grounded in a realistic world (which probably explains my addition to Vertigo imprint books). For example, Strange's appearance in Kevin Smith's Daredevil, which is a flawless story arc aside from the Strange appearance. That said, I've never given a stand along Dr. Strange book a fair read, but I somehow doubt my opinion would change about the character.
Discuss: Should Marvel make a Dr. Strange Movie? Really?