Kevin Smith Developing $50 Million Space Comedy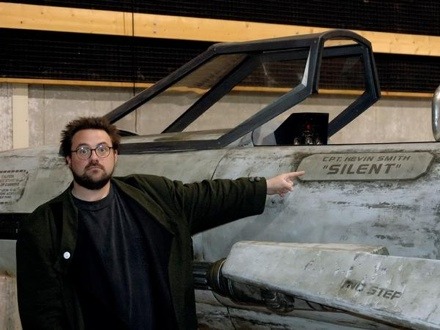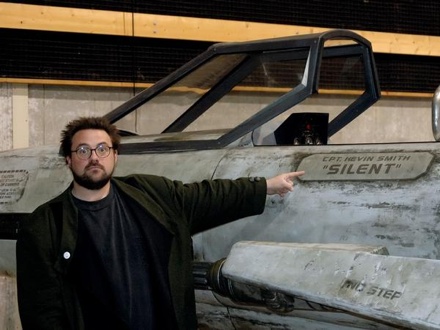 Kevin Smith is developing a $45-$50 million futuristic outer space comedy. The Weinstein Co have read part of Smith's completed first draft and are interested in making the movie. This is a big leap for Smith, who has been a $25-$30 million man on his last five films. "The moment someone steps out of the spaceship, it's going to cost a little more," Smith told The Hollywood Reporter. The story will revolve around a father-son relationship, and will reference other science fiction films.
Smith first wants to direct his indie horror film Red State, which he has said "so bleak that it makes The Dark Knight look like Strawberry Shortcake". THR has the first confirmed plot description for the movie, calling it a "dramatic tale of a domestic terrorist in the Heartland." Smith is hoping to find independent financing to shoot the project in Spring 2009.
Back to the sci-fi comedy, Smith has said publicly that he would like to reteam with Seth Rogen on the project. He also previously confirmed to us that the movie is an entirely different project from "Ranger Danger". The only other detail we know is that at Comic Con he said that the film "will test [his] abilities as a visual filmmaker."
As Smith points out, all of his movies have delt with the relationship of a man and a woman, or male friendship. So this new project will not only be a challenge for Smith visually, but will also test his range as a writer. Then again, Smith's strong points have always been comedy and relationships. I have faith that Smith will be able to handle the father-son story, and am interested to see what he can do cinematically. I've always felt that the director writes himself into non cinematic corners, which usually involve two characters talking to each other in various settings. Recently Smith, with the help of DP David Klein, has shown surprising bursts of visually cinematic sequences in the pilot episode of Reaper and Zack and Miri Make a Porno.
Discuss: Will Kevin Smith be able to handle a $50 million space comedy?