Zack And Miri Advertisements Rejected Due To The Word "Porno"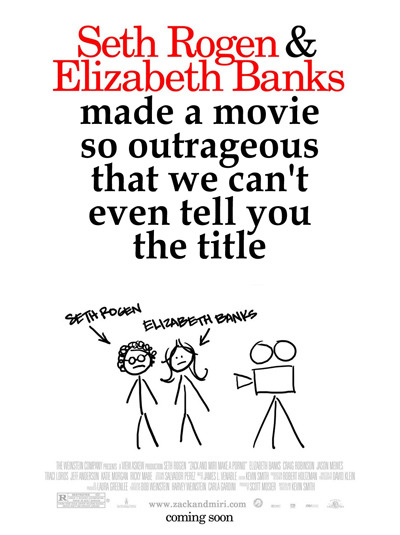 When Kevin Smith first announced the title of his next comedy, Zack and Miri Make a Porno, I wondered if The Weinstein Co would be able to market a film with the word "Porno" in the title. When the film was in production, they were forced to use a working title of "Zack and Miri" to avoid problems with shooting locations and local permits. And now that the advertising campaign is in full swing, fifteen newspapers and several television stations are refusing to to run advertising for the film.
According to CNN, Fox Sports decided to drop a series of ads which were scheduled to run during Los Angeles Dodgers games. Apparently the spots were dropped at the team's request when viewers complained. A child-development expert filed a complaint in Boston. The city of Philadelphia refused bus stop advertising, deeming the word porno "highly sexually suggestive and not suitable for general audiences."
The city claims they would be open to running advertising for the film which calls the movie just "Zack and Miri", but what's the point? The Weinstein Co is considering using a censored title in newspapers that originally rejected the film's original advertisements. The marketing company apparently developed a version of the stick-figure poster without the film's name, which just reads: "Seth Rogen and Elizabeth Banks made a movie so outrageous that we can't even tell you the title." Now that's funny.
Discuss: Is Zack and Miri Make a Porno Advertising inappropriate for the general public?
Disclosure: The poster image above is a mock-up of the advertisement TWC mentions in the story, but is not an official image.