Happytime Murders - A Muppet Noir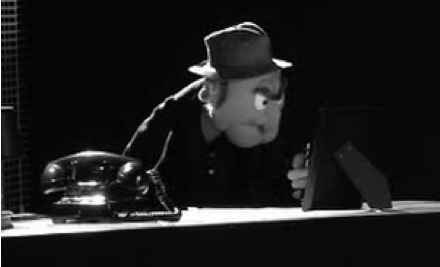 The Jim Henson Co has begun to develop a puppet film noir detective comedy titled Happytime Murders. If we knew nothing else about this project, I would still spend $10 on a movie ticket. The story follows a puppet detective who is hired to solve a string of murders around a popular children's television show called the Happytime Gang. The film will be populated with a mixture of human and puppet characters (to clarify, not "muppets"), and will be released under an alternative label "for content created specifically and exclusively for adult audiences." Sounds promising. But here are two reasons why the film could suck:
1. Unfortunately, Brian Henson, the guy behind some of the worst of the Muppet movies (Treasure Island, Christmas Carol) is helming the project. To be fair, Henson directed episode of Stephen King's Nightmares and Dreamscapes titled Battleground. It was filmed entirely without dialogue, and told the story of toy soldiers who come to life and kill a hit man played by William Hurt. Could be that children films just aren't Henson's area of expertise?
2. The film is being scripted by Todd Berger, the screenwriter behind the horrible 2005 Tom Arnold television movie Chasing Christmas. Berger most recently penned the direct to dvd Kung Fu Panda: Secrets of the Furious Five short film for Dreamworks Animation.
source: Variety