Fox Hires New Writer For Wall Street Sequel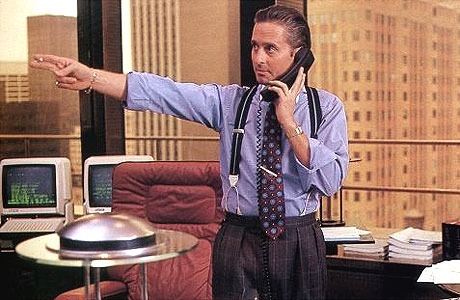 With the stock market back in the news headlines due, it is no surprise that 20th Century Fox is moving forward with development on the previously announced sequel to Oliver Stone's 1987 film Wall Street. 21 scribe Allan Loeb has been hired to pen the screenplay. I've heard nothing but bad things about Stephen Schiff's draft of the script which was titled Money Never Sleeps. Loeb will be doing a page one rewrite, and the studio hopes to fast track a sequel into production.
The story will follow Gordon Gekko, the character Michael Douglas made famous in the 1980's. Douglas is interested, but has yet to sign on to the project. The sequel will pick up as Gekko has been let go from prison and returns to the world of... you guessed it, Wall Street. Bud Fox (Charlie Sheen) will not be featured in the follow-up storyline. But I'm wondering how Gekko will deal with the highly volatile market, where it seems like no one is making money. But is that an interesting setting for
Discuss: Do you want to see a Wall Street sequel?