10 Things I Hate About You TV Series?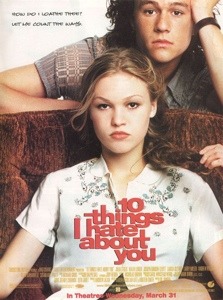 ABC Family has ordered a half-hour television pilot based on the 1999 teen comedy 10 Things I Hate About You, which starred Julie Stiles, Heath Ledger and Joseph Gordon-Levitt. Many teenagers don't realize that the film was actually a modern day tetelling of William Shakespeare's Taming Of The Shrew (hence the film's title – 10 Things I hate About You). Gil Junger, who filmed the original 1999 film will also helm the pilot.
The series will focus more on sisters Kate and Bianca Stratford facing their new high school enviorment. Whatever that means. No word on if the series will continue to play off Shakespeare (I doubt it) or if Julie Stiles will have a cameo, or possibly a reoccurring role as a teacher or guidance councilor (not likely)? The whole thing sounds like a really bad idea. 10 Things is one of the few really good high school romantic comedies of the last ten years for a combination of different reasons, none of which will likely translate to the ABC Family television series.
source: THR