Cool Stuff: The Shining - Posters And Tribute Artwork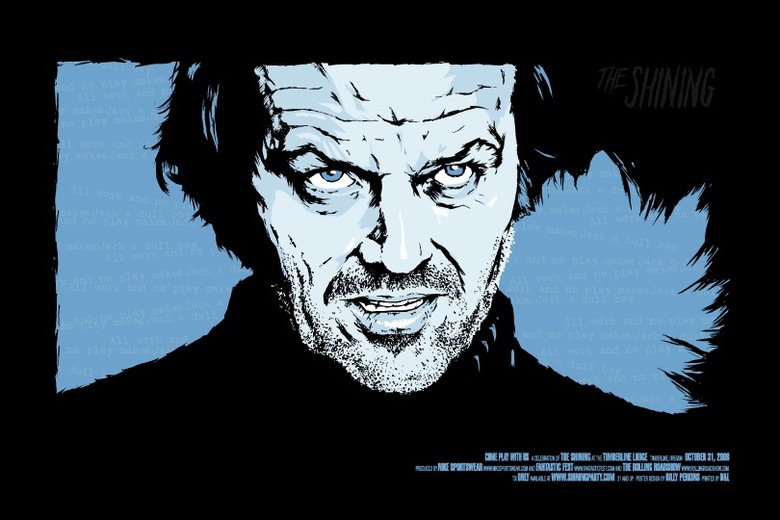 Yesterday we told you about Fantastic Fest's geektastic party at the Timberline Lodge, the original shooting location for Stanley Kubrick's The Shining. In the post I mentioned that one of the things that a Limited Edition Silkscreened Event Poster was being included in the packages. And you know how much I love Alamo's tribute posters... The two posters are now available online. Billy Perkins and Jeff Kleinsmith (who recently when head to head on the Good Bad Ugly Posters earlier this year) have created two new posters for The Shining to celebrate the event. Both measure 24x36, and both are signed and numbered, and printed by D and L. Available on Mondotees for $30.
The Perkins print is also available in a blood red variant (seen above) for $50. Click on the designs to enlarge. And if you want one, snatch it up while you still can at Mondotees.com: Maze Poster, Blue Jack, Red Variant Jack
Completely unrelated to the Alamo/Fantastic Fest sponsored event is an art show called Artwork and No Play at the Phone Booth Gallery in Hollywood (which is running until October 31st). A number of the art pieces from the show are up for sale on PhoneBoothGallery.com, but I first want to point out the following two signed and numbered prints which are also available.
R Black's poster for the "Artwork and No Play" show is available as a 3 color screenprint, signed and numbered (limited to 100 prints) on 18 x 24 Boise Smooth Opaque 100 pound cover stock for $49.
Kevin Tong's "Wave of Mutilation" is available as a 2 color screenprint on 9.75 x 16.25 french paper. Signed and numbered (only 50 printed) for $40.
Check out some of the other original art available for sale after the jump.
"THEY DON'T ALL SHINE BRIGHT"12" x 12"
Mixed Media on Wood Panel
$900
"WANT TO PLAY?"11.5" x 16.5"
Indian Ink, Acrylic, Pen
$90
DAVID OWEN
"CORRECTIVE ACTION"8" x 10"
Pen, Marker, Watercolor
$150
SOLD
"SHINE ON"11" x 17"
Pencil, Ink
$500
CHESTER BURNETT
"ARE YOU AFRAID?"17.5" x 8"
Mixed Media on Wood Panel
$150
SOLD
JASON "JZN" LIWAG
"FORSHADOW"10" x 10" x 2"
Mixed Media on Wood Panel
$250
"I WANTCHA TO LIKE IT HERE, DANNY"20" x 10"
Graphite
$500
"PURELY AN ACCIDENT"11" x 14"
Mixed Media on Wood Panel
$200Cool Stuff is a daily feature of slashfilm.com. Know of any geekarific creations or cool products which should be featured on Cool Stuff? E-Mail us at orfilms@gmail.com.