The Shining At Timberline Lodge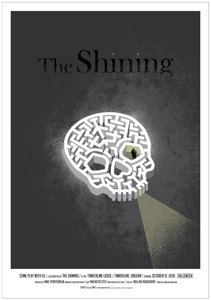 Fantastic Fest is holding a party at the Timberline Lodge in Oregon, the original filming location of Stanley Kubrick's The Shining. Check out the information below:
In 1980, Stanley Kubrick came to the Timberline Lodge to film one of the all-time great horror classics, THE SHINING. In the film, Jack Nicholson slowly loses his grasp on reality and loses himself in a hallucination of a 1920s era ball. Twenty-Eight years later, Nike Sportswear and Fantastic Fest have joined forces to recreate the very same ball at the very same lodge.
Two ticket options are available for this special night:
VIP Overnight Package:
Dinner at the Lodge
3 Cocktails per person
Live music and shows throughout the evening
Limited Edition Silkscreened Event Poster (seen right, also available on Mondotees.com)
A one-night stay at the historic Timberline Lodge
In-room screening of the film
VIP gift package
Continental breakfast the morning after the party
This VIP Overnight Package is designed for couples who want to stay the night. Ticket price is $100 per person ($200 per room). Note: the regular Timberline room rate is $220/night for just the room. As there are only 50 rooms available for overnight stay, we are offering a "the Gold Room ticket," a discounted admission to the party for guests not staying the night.
The Gold Room Ticket:
Dinner at the Lodge
3 Cocktails per person
Live music and shows throughout the evening
Limited Edition Silkscreened Event Poster
Round trip bus service to and from the party
Only 200 Gold Room tickets are available for $25 per person.
Attire: Formal attire is mandatory, 20's era formal attire is preferred. We will have special gifts for the best period attire of the night.Schedule:
5:00 PM Boarding begins for Gold Room Ticket-holders in Portland (location TBA)
5:30 PM Gold Room Ticket-holder buses depart
7:00 PM Dinner begins at Timberline Lodge
9:00 PM Music, cocktails and entertainment begin
11:50 PM Return bus boarding begins for Gold Room Ticket holders
At the stroke of midnight, all VIP Overnight guests are required to return to their rooms and turn on their TVs for a very special screening of THE SHINING. All VIP guests will be watching THE SHINING simultaneously, but in the privacy of their own rooms.
Note: VIP guests will need to provide their own transportation to the lodge. VIP Overnight guest check-in begins at 6:00 PM on October 31 and check-out is at 11:00 AM on November 1.
Tickets for this event go on sale on Friday, October 10 at 2:00 PM PST at www.shiningparty.com, where you can find additional details and updates about the event. As tickets are extremely limited, we anticipate this show to sell out quickly.