Early Buzz Report: Oliver Stone's W.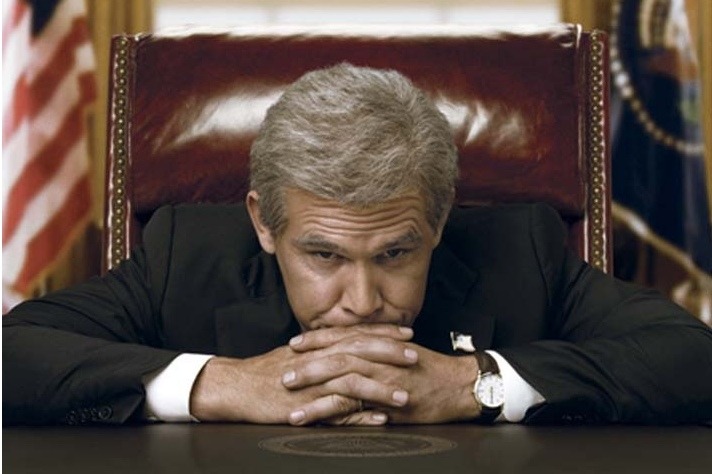 The reviews for Oliver Stone's W. have begun to show up online, and aside from Josh Brolin's "magnificent" performance, the buzz is pretty mild:
Jeff Wells writes: "Josh Brolin's performance as George W. Bush being dead perfect but — and this, I believe, is a crucial distinction — appropriately hollow. Which means that on some level the performance, like the film itself, leaves you feeling a wee bit flat and wanting more."The Hollywood Reporter's Kirk Honeycutt writes: "It's a gutsy movie but not necessarily a good one. Its greatest strength is that it wants to talk about what's on our minds right now and not wait for historians." ... "What he seems to want is Greek tragedy. But what he gets is Texas melodrama."Screen Daily's Mike Goodridge writes: "Oliver Stone has an uncanny knack of making movies which are better appreciated many years after they are made, and W feels like it will be one of them." ... "At its best, it holds up as a dramatized character study of the father and son presidents which will be watched keenly in years to come. At its worst, it is submerged by an over-populated cast of characters and a tone which shifts awkwardly between dramatic storytelling and smartass political comedy."David Poland writes: "Brolin should be nominated for the Oscar. We'll see whether the crowd around Best Actor is too big for him to crack, but it is a letter perfect performance that looks much, much easier than most critics and audiences, I think, will understand." ... "Brolin is magnificent in a way very different than Langella in Frost/Nixon or Hopkins in Stone's Nixon. It is not an imitation, yet it is a perfect imitation... and you don't just see that every day."Variety's Todd McCarthy writes: "Oliver Stone's unusual and inescapably interesting "W." feels like a rough draft of a film it might behoove him to remake in 10 or 15 years." ... ""W." is, if anything, overly conventional, especially stylistically. The picture possesses dramatic and entertainment value, but beyond serious filmgoers curious about how Stone deals with all this president's men and women, it's questionable how wide a public will pony up to immerse itself in a story that still lacks an ending."Emanuel Levy writes: "Too late (or too early), too little, too restrained, and too conventional." ... "a strong, compelling and entertaining turn from Josh Brolin" ... "[the tone] is too restrained and solemn to qualify as a social or political satire." ... "As a film, W. represents a passable entertainment, one that's easy to take and be moderately engaged in. However, lacking real bite and criticism, and mostly rehashing facts that are known about Bush fils' earlier life."