Hunter Stephenson's Movie Review: Sex Drive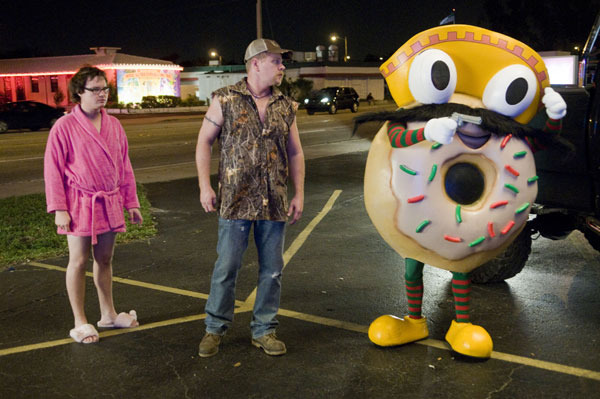 Three things you should know about Sex Drive: 1) A whore nearly s***s on Clark Duke. 2) It's one of the funniest movies of 2008. 3) It doesn't carry a Judd Apatow hall-pass.
And if the word of mouth explodes on this flick, it might be hailed commercially as the new American Pie (whatever that means) right in time for total economic collapse. Admittedly, like your own, my expectations were really low for this movie, comparable to those for Nick & Norah: Die, and that was before I found out Fall Out Boy had a cameo. That was before I paid enough attention to realize the title was a pun. That was before I went to Momofuku Ko for free and got a free massage. The only reason why this movie was on my movie radar was the presence in the unfunny trailers of Clark Duke, a shapely young actor who starred in the addictive web series, Clark and Michael, opposite Michael Cera.
But after seeing Sex Drive, Clark Duke is officially a star. And he's a star who's open to "dude, you look like a chick" jabs courtesy of Brian Posehn. And he's the highlight of an R-rated teen-sex comedy because he bangs everything that moves, including the Amish.
This is not a comedy you should read five reviews on, even if you're bored. It follows the adventures of a proto-Last American Virgin named Ian (Josh Zukerman, awesome here) who steals a '69 GTO and bounces around with his pussy-magnet best bud (Duke) and his best girl/crush (Amanda Crew, funny)—the Ferris Bueller equation. Talented youngs, all. And, as confidently co-written and directed by Sean Anders, the movie never forgets the sparkly cast chemistry and off-the-cuff banter of '80s flicks like Fast Times, Weird Science and License to Drive, even while piling on supremely gross sight-gags from the late '90s, '00s agreeable YouTube segues, and lots of '20s "F**!"s. This is a cast you'll want to stay with after, even if the didactic ending kinda bails—and did we really need the cliché "that explains the bigotry?" safety net?
James Marsden destroys as the older, alpha brother to Zuckerman's bashful Ian. His character, Rex, has drawn early comparisons to Bill Paxton's Chet (and Lee Tergesen's), but also possesses the jock heart of Brand in The Goonies. When guns are drawn and the film's plot goes madcap, Rex joins the party rather than squashing it. The preview audience ate-it-up. Marsden is swell at physical comedy—making you feel sorry for a garage door—and whenever he's on screen he offers a jolt of violent anticipation. His one-liners aren't bad either. When informing his brother that he "looks like a Mexican butthole," in the context of the scene it's both an endearing, painfully wrong and acute observation. To the pantheon of movie jerks he goes.
So much current mainstream comedy walks an awkward, paranoid tight rope—see SNL being censored by billionaire stiffs—and Sex Drive is refreshing because Anders and co-writer John Morris seem blissfully unawares here. This is Anders's second film following a little seen 2005 Christian rock spoof, and due to the success of Superbad, it could have been predictably stuffed with pseudo-shocking c**k jokes. Instead, nothing is off limits if it scores a laugh, as it should be. Christians get beaved, grandma, cancer, abstinence and suicide are up for grabs, and I think there's an Elvis Mitchell doppelganger at the end. A talking Jean Claude Van Damme poster? Sure. Unlike the second Harold and Kumar, the jokes aren't stitched together to mock yet casually simmer in the cultural climate; compared to a few of this summer's high profile comedies, the bromance on display doesn't fill the air like congratulatory cigar smoke.
When Clark Duke assures an incarcerated black dude that he'll check out his rap MySpace page, it's Zen-like. Suddenly it's as if you're peering into a future of countless afternoons spent enjoying Sex Drive on Comedy Central instead of getting dressed or blankly watching your roommate clean-up. For me, that's an all too rare accomplishment for a film. And congrats to those involved for The Wraith homage set to Kenny Loggins's "Danger Zone."
8.5/10