Ruben Fleischer's Short Films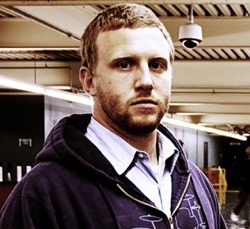 Earlier tonight we reported that Jesse Eisenberg is in talks to star in Ruben Fleischer's Zombieland. But you might be wondering, who exactly is Ruben Fleischer?
Answer: Rleischer He has directed a few music videos for bands ranging from Piebald to M.I.A., in addition tosome commercial work (including this Up Late With The King commercial for Burger King). But I'd like to point you to some of his short films.
First up is Load/Unload, which stars Nick Thune and Kevin Heffernan of Broken Lizard fame.
[flv:http://bitcast-a.bitgravity.com/slashfilm/trailers/loadunload.flv 460 256]
Next up is another short film from 2007, titled Phone Tag, which features Olivia Munn of G4's Attack of the Show fame.
[flv:http://bitcast-a.bitgravity.com/slashfilm/trailers/phonetag.flv 460 236]
And finally, you can check out Fleischer's 2001 short film The Girls Guitar Club which stars 24's Mary Lynn Rajskub:
[flv:http://bitcast-a.bitgravity.com/slashfilm/trailers/girlsguitarclub.flv 400 190]