Guillermo Del Toro's Frankenstein Is Not The Traditional Creation Story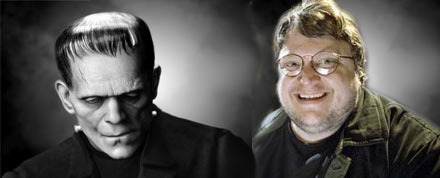 I'm not sure Guillermo del Toro will ever get to make his big screen adaptation of Frankenstein. After the director tackles The Hobbit films, he will return to a dining room filled with overflowing plates of projects he has already committed to. And the fact of the matter is that this horror remake is probably one of the least interesting projects on his slate is a testament of the quality of films del Toro has in development. But that doesn't stop me from geeking out when I read quotes (this one via ComingSoon) of del Toro teasing his version of the classic horror tale:
"I'm not doing 'Mary Shelly's Frankenstein.' I'm doing an adventure story that involves the creature. I cannot say much, but it's not the central creation story, I'm not worried about that. The fact is I've been dreaming of doing a 'Frankenstein' movie since I was a child. The one thing I can promise is, compared to Kenneth Branagh, I will not appear shirtless in the movie!"
Now if only del Toro could create 10 clones of himself...