Page 2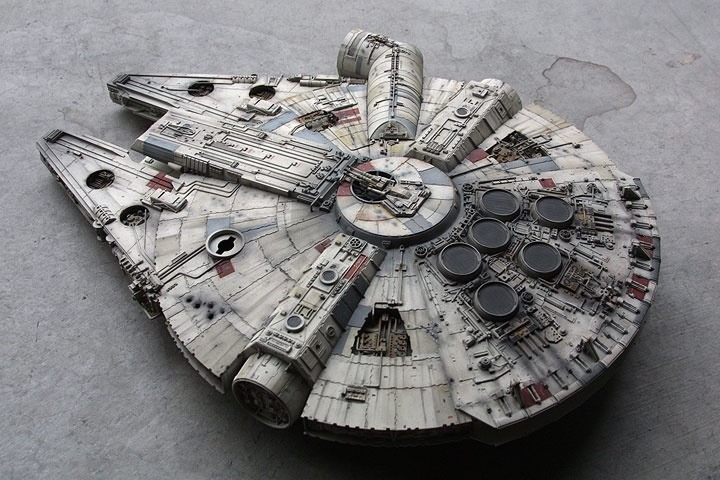 Dana Jan has been blogging his construction of a 800-piece Japanese 1/72 scale model of the Millennium Falcon. Thanks to /Film reader Dan L for the tip. [12-parsecs]
Jon Favreau says that a Swingers 2 might happen eventually: "Maybe a Swingers sequel in another 10 years. Like the Sunshine Boys." [LATimes]
While shooting a scene for Dexter, Jimmy Smits accidentally grabbed a real knife instead of a prop knife, and plunged it into stuntman Jeff Chase's chest. Thankfully, Chase was saved by a post-it note sized piece of plastic over his heart. [IMDB]
Roger Ebert writes about his experience watching a restored print of The Godfather with the Wachowski Brothers.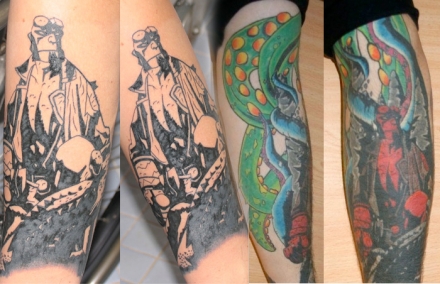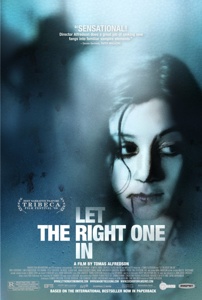 Great White Snark has before and after photos of Cartoonist Rhys' Hellboy tattoo. I actually prefer the pre-colored version.
Magnet/Magnolia released an American poster for Let The Right One In.
Jon Favreau revealed on Howard Stern that Clive Owen and Sam Rockwell were considered for the role of Tony Stark before Marvel signed Robert Downey Jr.
Rumor has it that Zak Knutson and Joey Figueroa filmed a feature length doc called Perversion for Profit, which chronicles the behind the scenes adventures of Kevin Smith's Zack and Miri Make a Porno. I'm guessing it will be released on the special edition dvd. [newsaskew]
Mark Ruffallo admits that he tried out for the role of Harvey Dent/Two-Face in Christopher Nolan's The Dark Knight. [MTV Splash]
Darren Aronofsky's The Wrestler and Steven Soderbergh's Che will both play AFI Fest 2008. [THR]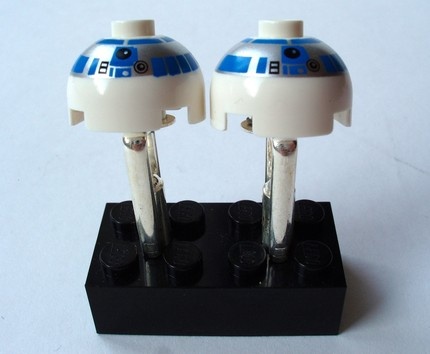 Would anyone actually wear R2D2 LEGO cufflinks? Seriously... [theforce]
House Peters Jr, the actor who played "Mr. Clean" in hundreds of television commercials in the late 1950s and early 1960s, died in Los Angeles at the age of 92. [reuters]
MovieMistakes takes a indepth pictorial look at the biggest James Bond Blunders.
While doing post production on Iron Man, Jon Favreau claims he was given a guided tour of a secret warehouse full of props on George Lucas' Skywalker Ranch. [wenn]