Scorsese To Direct De Niro In I Heard You Paint Houses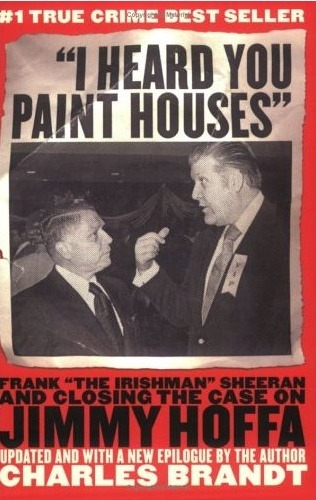 We may receive a commission on purchases made from links.
Martin Scorsese has added yet another movie project to his ever growing plate. The latest is an adaptation of Charles Brandt's 2005 novel I heard You Paint Houses. Schindler's List scribe Steve Zaillian has been hired to pen the adaptation and Robert De Niro is signed on to play Frank "the Irishman" Sheeran, a mob assassin who is believed to have carried out more than 25 mob murders, and claimed to have killed Jimmy Hoffa. Bandt befriended Sheeran shortly before his death in 2003. The film's title refers to the clever mob slang for contract killings. As you can imagine, when someone is murdered, the blood splatters on walls and floors aka Painting the house. Sounds like a potential return to his gangster roots for the Goodfellas/Casino director.
Zallian's writing credits also include Gangs of New York, American Gangster, Cape Fear, Hannibal, A Civil Action, Mission: Impossible, Clear and Present Danger, and Searching for Boby Fischer.
You can buy the book on Amazon.com for $10.85.
Official Book Description: HEARD YOU PAINT HOUSES is a fascinating account of a dark side of American history. The book's title comes from the first words Jimmy Hoffa ever spoke to Frank "the Irishman" Sheeran. To paint a house is to kill a man. The paint is the blood that splatters on the walls and floors. Frank Sheeran lived a long, violent, passionate life. As a boy he took on older kids in bar fights so his dad could win free beer. During World War II he was a highly decorated infantryman with 411 days of active combat duty and a willingness to follow orders. "When an officer would tell you to take a couple of German prisoners back behind the line and for you to 'hurry back,' you did what you had to do." He became a hustler and hit man, working for legendary crime boss Russell Bufalino and eventually becoming one of only two non-Italians on the FBI's famous La Cosa Nostra list. He was also a truck driver who was made head of the Teamsters local in Wilmington, Delaware, by his good friend Jimmy Hoffa. When Hoffa disappeared on July 30, 1975, Sheeran became a leading suspect, and every serious study of the Hoffa disappearance alleges that Sheeran was there.
For the first time the Irishman tells all — a lifetime of payoffs (including hand-delivering bags of cash to Nixon's attorney general John Mitchell) and manipulation (supporting Joe Biden's election to the Senate with a Teamster action) — for the book that would become his deathbed confession. He died on December 14, 2003. Sheeran also provides shocking new information on notorious mob hits: Joseph "Crazy Joey" Gallo — blown away as he celebrated his forty-third birthday in New York's Little Italy; Salvatore "Sally Bugs" Briguglio — long suspected of being a player in the plot to kill Hoffa. And offers new insights to the crusading of Robert Kennedy and the death of John F. Kennedy. This historic account is based on interviews of Frank Sheeran by Charles Brandt, who researched, cross-checked, and illuminated what Sheeran told him and turned it all into a gripping narrative that is sure to become an instant true crime classic. –This text refers to an out of print or unavailable edition of this title.
Sometimes I wonder if he will even complete a tenth of the announced projects. I'm not sure when or if Scorsese will ever be able to fit this into his schedule. Up next the director will choose between the three top projects on his list: Silence, The Wolf of Wall Street and The Long Play.
"Sheeran's confession that he killed Hoffa in the manner described in the book is supported by the forensic evidence, is entirely credible, and solves the Hoffa mystery." – Michael Baden, M.D., former Chief Medical Examiner of the City of New York
"Told with such economy and chilling force as to make The Sopranos suddenly seem overwrought and theatrical." – New York Daily News
"A page-turning account of one man's descent into the mob." – Delaware News Journal
source: Variety