Cool Stuff: Cylon Raider Artisan Replica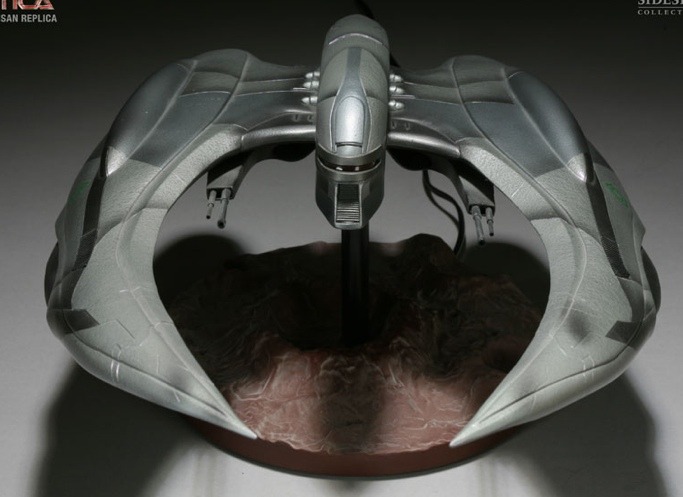 Sideshow Collectables is selling a limited edition replica of the Cylon Raider Artisan ship. These replicas are screen-accurate, scale recreation of the Cylon Raider tactical fighter. Each Battlestar Galactica Artisan Raider is handmade by the special-effects professionals at The FX Company. This elite ship model comes complete with seven-layer prismatic paint and lighting effects.

By special arrangement, each Artisan Raider will come with a numbered brass and lucite plaque signed by one of the cast members/producers of Battlestar Galactica: Jamie Bamber (Apollo), James Callis (Baltar), David Eick (Executive Producer), Tricia Helfer (Number 6), Michael Hogan (Colonel Tigh), Ron Moore (Executive Producer), Edward James Olmos (Adama), Grace Park (Boomer/Athena), Michael Rymer (Director/Producer), Katee Sackhoff (Starbuck). The signatures are randomly inserted into each Raider box. You will be guaranteed to get one of the signatures above, but you just won't know which one until you open the box. This is kinda stupid if you ask me. If I'm going to pay almost one thousand dollars for something, I would expect the option to be able to choose the signature I wanted. With my luck, I'd be stuck with an autograph from David Elck.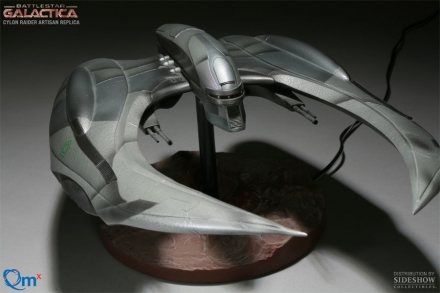 Authenticated by BSG Raider creator Eric Chu, the Battlestar Galactica Cylon Raider measures 15" x 9.5" x 3" with a total display height of 10", including the painted, textured asteroid diorama base (measuring 12" x 8"). Paint details on the Raider include prismatic iridescents and multiple, textured metallics – which change hue depending on how light hits the replica – and weathering done in several layers. Lighting effects include the scanning/sweeping red LED "eye" and randomly flaring white engine lights. The Raider's lighting system runs off a 12-volt transformer. Available for $949.99 on Sideshowtoy.com. More photos after the jump.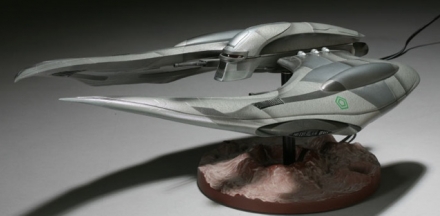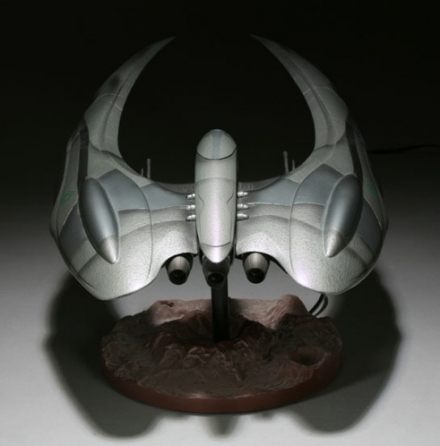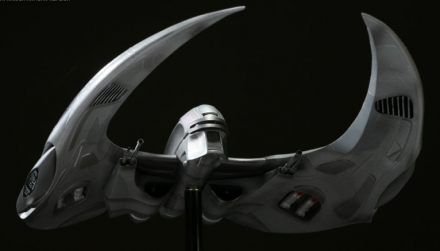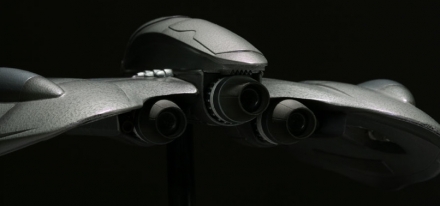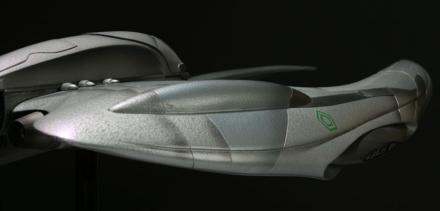 Cool Stuff is a daily feature of slashfilm.com. Know of any geekarific creations or cool products which should be featured on Cool Stuff? E-Mail us at orfilms@gmail.com.