WTF: Russell Crowe Cast As Both Robin Hood And The Sheriff In Nottingham?!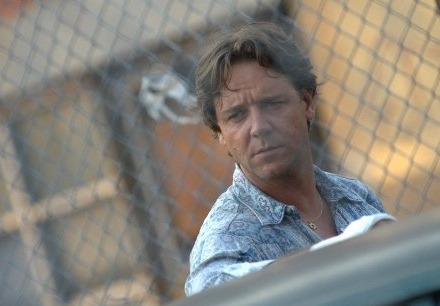 Director Ridley Scott tells MTV that not only will Russell Crowe play The Sheriff in his upcoming revisionist take on the Robin Hood story, but the actor will be doing double duty as Robin Hood.
Nottingham is a 180 degree spin of the Robin Hood story-line where the Sheriff is the protagonist and Robin Hood is the bad guy. The Sheriff finds himself caught in the middle of a situation which pits an outlaw named Robin Hood who "who threatens to rouse the public in popular anarchy" and a corrupt and unpopular king who demands the arrest of the outlaw.
The script was subject to a 2007 bidding war between most of the major studios. Crowe has been attached to the project since it was announced, even before Scott was brought on board. Christian Bale was once incorrectly rumored to play the famous outlaw. The project was put on hold in July due to "labor trouble". Crowe is certainly capible to play both roles, but it still seems like an odd or unnecessary decision.
Update: CHUD clarifies the entire casting story with the news that Robin Hood and The Sheriff are actually the same person.Discuss: What do you think of this unconventional casting decision?