Johnny Depp Cast In Burton's Alice, The Lone Ranger And Pirates Of The Caribbean 4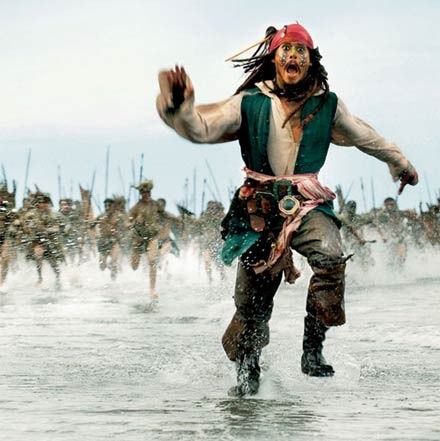 I just spent the last six and a half hours in the Kodak Theater in Hollywood watching Disney's big keynote event. So the next few stories will be about the big announcements that came out of the presentation.
Johnny Depp has been cast in the upcoming Jerry Bruckheimer produced adaptation of the classic old-time radio and early television show The Lone Ranger created by George W. Trendle. The series followed a masked Texas Ranger in the Old West who rights injustices with the aid of his native American assistant, Tonto. He gallops along on his white horse Silver. The character's signature quote is "Hi-yo, Silver, away!" Depp will play Tonto. Pirates of the Caribbean writers Ted Elliott and Terry Rossio have been writing the script. No start or release dates have been announced.
Depp must have signed a multi-picture deal with the studio, because it was also announced that the actor would play The Madd Hatter in Tim Burton's 3D part live-action, part computer animated adaptation of Alice's Adventures in Wonderland. Principal photography is set to begin in November, with a March 5th 2010 release date previously announced. Concept art from the film was shown, showing the classic Alice in Wonderland scenes done in Tim Burton style, complete with curved and slanted corners. Everything is really stylized. Tweedle Dee and Tweedle Dumb have huge heads, and are shaped like upward missiles. None of the characters look like a dramatic departure from the traditional designs.
At the conclusion of the presentation, Walt Disney Studios Chairman Richard W. "Dick" Cook announced "How about another pirates movie!?" signaling that Depp was now signed for Pirates of the Caribbean 4.
Discuss: What do you think of the choice of Depp as The Lone Ranger or Madd Hatter? Do we really need another Pirates film?