Jon Favreau And Vince Vaughn Reteam For Couples Retreat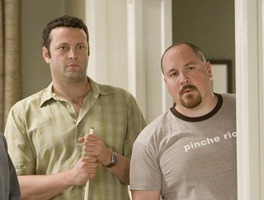 Jon Favreau and Vince Vaughn will reteam in Couples Retreat, based on an idea by Vaughn, scripted by Favs and directed by Peter Billingsley. This will be Billingsley's directorial debut. He began has career as a child actor, best known as Ralphie in A Christmas Story, and later the producer of Favreau's films: Made, Zathura, The Break-Up, Iron Man and Four Christmases. Jason Bateman and Faizon Love are also attached to the film which will start production in late October in Bora Bora and Los Angeles.
The movie will tell the story of four couples who go on a couples retreat to a tropical island. Variety lists the logline as follows: "While one couple is there to work on their marriage, the others are there to play but soon discover that participation in the resort's couples therapy is not optional."
Yeah, it doesn't exactly sound like a follow-up to Swingers/Made.  I'm hoping the duo will eventually film one last movie to complete that series. Which begs the question, is it really a series if the films are not connected?