Nicole Kidman To Star In "Indiana Jones-Like Adventure" Entitled The 8th Wonder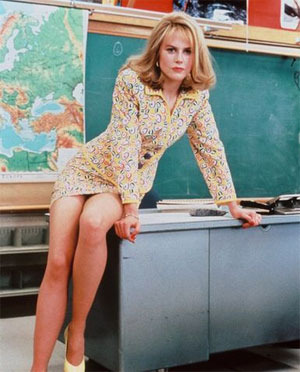 It feels as if I am typing this item behind a curtain that flutters with the energy of Nicole Kidman's online hecklers and haterz. Today the trades report that the actress has signed to star in The 8th Wonder, a new globe-trotting action adventure tent pole that aspires to "be to Raiders of the Lost Ark what the Bourne movies are to James Bond movies: a character-driven, treasure-hunting thriller." Further details were not revealed, but the flick will be produced by Kidman and Laurence Mark (I Robot, The Lookout, and yes, Cutthroat Island) from a script to be written by Simon Kinberg (Guy Ritchie's Sherlock Holmes, Jumper, X3).
While her Botox really kills me—every time I see a still from Australia, I think about blowfish and bad advice—Kidman's performances in Van Sant's To Die For and von Trier's Dogville hulahoop the majority of A-list actresses out there. I'll hold judgement until a director is announced, but if the project is in the vein of Romancing the Stone and Indiana Jones rather than another same-old SFX vapid-fest like Tomb Raider and National Treasure, it could be a welcome monkey wrench in the genre's boy's club. Cue a guy lifting up an Arnold Palmer in Hollywood and omnipotently dishing, "Yeah, but she isn't bankable."