This Week In DVD: Speed Racer, The Love Guru, Pushing Daisies, 88 Minutes, And More...
We may receive a commission on purchases made from links.
This Week in DVD is a column that compiles all the latest info regarding new DVD releases, sales, and exclusive deals from stores including Target, Best Buy, Circuit City, and Fry's.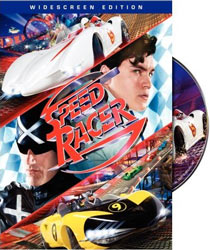 SPEED RACER
A film that has earned equal shares vehement hatred and unabashed praise, Speed Racer has proven itself one of the most divisive films to come out in a long while. This fact was made very clear when the movie only earned back $40 million of its $120 million budget. Even so, I have to admit to being one of the supporters for the film, as once I got past my initial nausea in reaction to the film's over-stylized visuals (which are tantamount to what you might get if the Easter Bunny had a nasty case of rainbow diarrhea), the kickass action sequences, strong actors and palpable appreciation for the source material make the whole experience a very fun and worthwhile ride.
Blu-ray? Yes.
Notable Extras: Unsurprisingly, there isn't much in the way of special features for this massive box office flop. We only get two featurettes ('Speed Racer: Supercharged' and 'Spritle in the Big Leagues').
EXCLUSIVE DEAL:
What? Exclusive deluxe edition ($22.99).
Where? Target.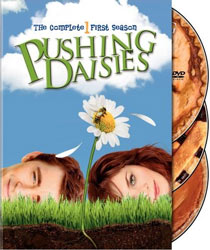 PUSHING DAISIES (SEASON 1)
This will be the first DVD I've ever blind bought. Normally I'd test the waters through Netflix before potentially wasting $20 bucks, but after being unable to escape the show's constant praise (with words being thrown around like "wonderful," "quirky," "unique," "brilliant," "magical," etc. etc.) and discovering it's from the creator of one of my favorite shows, Dead Like Me, I get a strong feeling that this is a purchase I won't regret. The premise revolves around a man named Ned who possesses the ability to bring the dead to life (and back to death again) with only a touch. However, if they remain alive for longer than a minute, someone else dies in their place. Season 1 contains 9 episodes.
Blu-ray? Yes.
Notable Extras: There's a substantial amount of material available to access, but the only way to get to it is through a feature called 'Pie Time: Time for Pie.' It allows you to view the episodes and periodically select a cursor that appears onscreen, and from there it takes you to individual feaurettes.
EXCLUSIVE DEAL:
What? Exclusive book.
Where? Target.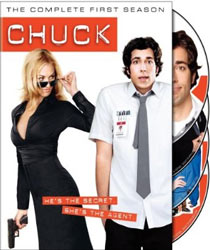 CHUCK (SEASON 1)
You guys can go ahead and debate over the quality of this show, because I honestly could not have less interest in it. I remember watching the pilot episode and now looking back there's not one scene I can remember from it. I also remember catching the last five minutes of almost every episode before Heroes would air, and being confused as to whether they were just playing reruns of the same episode over and over again (since they all seemed to resolve in the exact same way). However, there's a reason this is in the good section and not the bad: people like it. Maybe I need to actually invest some time in the show before I understand why, but apparently the season continued to get better as it went along. So if you're in the mood for an action dramedy about a computer geek turned secret agent, by all means check out Chuck. Season 1 contains 13 episodes.
Blu-ray? Will be released November 11, 2008.
Notable Extras: Declassified Scenes, 2 featurettes ('Chuck's World', 'Chuck on Chuck'), a gag reel, and a gallery of web originated mini-featurettes.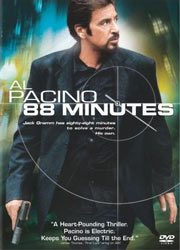 88 MINUTES
So many people doubted me when I said Righteous Kill would be bad. "How the hell do you take two of the world's best actors and make a shitty movie?" Unfortunately, half that question was already answered when Righteous Kill director Jon Avnet squandered Al Pacino's talents with 88 Minutes, a movie that currently holds a whopping 6% on Rotten Tomatoes and was even slapped with the indignity of being released straight-to-DVD outside of the U.S. before its domestic release. And now that Righteous Kill has been released to a 22% rating on Rotten Tomatoes, it seems a lot of the blame can continued to be put squarely on director Jon Avnet. Here's a tip for studios: next time you want to pair together two of the world's most badass actors, choose a competent director who hasn't already put one of those actors to shame in a film like this.
Blu-ray? Yes.
Notable Extras: A director commentary, an alternate ending, and 2 featurettes ('Director's Point of View', 'The Character Within').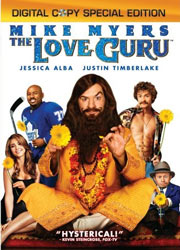 THE LOVE GURU
(Available as single-disc and 2-Disc Digital Copy Special Editions)
Featured as one of this week's Shit Movies of the Week on the /Filmcast, The Love Guru is possibly one of the most embarrassing comedies I've ever had the misfortune of seeing. It's almost even on the level of a Jason Friedberg/Aaron Seltzer production (the geniuses behind Date Movie, Epic Movie, Disaster Movie, and so on...) as there's a constant supply of random pop culture references that aren't funny and don't relate to anything going on in the movie, of which there really isn't much to begin with. When the film isn't wasting time on unfunny referential nonsense, Mike Myers makes sure to keep things moving by incessantly mugging for the camera and overall just making a huge ass of himself, a fact that's further evidenced every time he recycles his own material from the Austin Powers films.
Blu-ray? Yes.
Notable Extras: Extras on the single-disc include featurettes ('One Hellava Elephant', 'Hockey Training for Actors', 'Back In The Booth With Trent and Jay'), 11 deleted and extended scenes, and bloopers. The only addition exclusive to the 2-disc is a digital copy of the film.
*Does not include 2-Disc Edition, which costs $22.99 at each of the listed stores (including Amazon).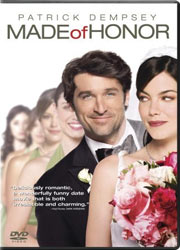 MADE OF HONOR
I don't think anybody was really debating over whether or not this would be anything more than just another inoffensive, bland and unoriginal chick flick, but the 12% on Rotten Tomatoes and 5.4 rating on IMDB certainly solidify those expectations nicely. Apparently Hugh Grant and Matthew McConaughey weren't available for the role of "awkward yet likable leading man with a good heart," so the role went to Patrick Dempsey. Not even the amazing Michelle Monaghan (from one of my favorite films, Kiss Kiss, Bang Bang) presents enough incentive to give this film the go-ahead. And man does that stupid pun in the title make me cringe.
Blu-ray? Yes.
Notable Extras: Just a director commentary.
EXCLUSIVE DEAL:
What? Deluxe edition ($22.99), includes exclusive bonus content and digital copy.
Where? Target.
Other noteworthy DVDs available this week...
Young@Heart – Snow Angels – Beetlejuice (20th Anniversary Deluxe Edition) – Risky Business (Deluxe Edition) – The Breakfast Club (Flashback Edition) – Sixteen Candles (Flashback Edition) – Weird Science (Flashback Edition) – Blood Simple (Director's Cut) – Will & Grace (Season 8) – Private Practice (Season 1) – Dirty Sexy Money (Season 1) – Torchwood (Season 2) – Criminal Minds (Season 3)
Discuss: What are you planning to rent or buy this week?

NOTE: Some deals may be in-store only.

Exclusive: Free $10 Target GiftCard with purchase of both Private Practice (Season 1) ($29.99) and Dirty Sexy Money (Season 1) ($29.99).
$19.99 – Dexter (Season 1 or 2), Family Guy (Volumes 3 – 5), and more...
$29.99 – The Office (Seasons 2 – 4), House (Seasons 1 – 4)
$10 – Casino Royale, The Kingdom, Stomp the Yard, and more...

Exclusive: Save $10 with purchase of both Private Practice (Season 1) ($29.99) and Dirty Sexy Money (Season 1) ($29.99).
$14.99 – Doomsday, The Bank Job, There Will Be Blood, Vantage Point, The Other Boleyn Girl, Miss Pettigrew Lives for a Day, 21, What Happens in Vegas, and more...

$4.99 – Vanilla Sky, The Manchurian Candidate, Enemy at the Gates, Road to Perdition, 8 Mile, The Hunt for Red October, Spy Game, Jacob's Ladder, The Legend of Bagger Vance, Patriot Games, Double Jeopardy, For Love of the Game, and more...
$6.99 – Punch-Drunk Love, Say Anything, Jerry Maguire, Garden State, The Girl Next Door, Sleepless in Seattle, Legally Blonde, Guess Who, 50 First Dates, and more...

$3.99 – Jeepers Creepers, Blue Velvet, Fargo, Hotel Rwanda, Eight Men Out, This is Spinal Tap, Dances with Wolves, Hoosiers, and more...