Role Models Red Band Trailer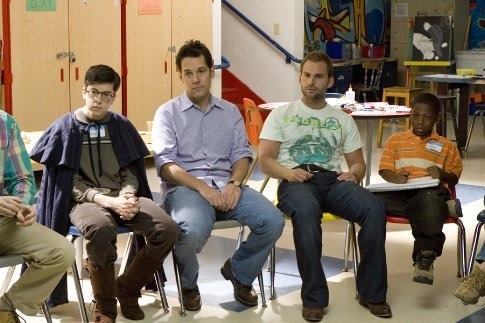 Universal has released a Red Band Movie Trailer for Role Models, the upcoming Paul Rudd/Seann William Scott comedy. My internet connection is not cooperating, so I'm unable to share my thoughts. So please tell me what you think in the comments below!
Official Plot Synopsis: Danny and Wheeler, two salesmen who trash a company truck on an energy drink-fueled bender. Upon their arrest, the court gives them a choice: do hard time or spend 150 service hours with a mentorship program. After one day with the kids, however, jail doesn't look half bad.
Surrounded by annoying do-gooders, Danny struggles with his every neurotic impulse to guide Augie (Christopher Mintz-Plasse) through the trials of becoming a man. Unfortunately, the guy just dumped by his girlfriend (Elizabeth Banks) has only sarcasm to offer a bashful 16-year-old obsessed with medieval role play.
Meanwhile, charming Wheeler tries to trade in an addiction to partying and women to assist a fifth-grader named Ronnie (Bobb'e J. Thompson) redirect his foul-mouthed ways. It would probably help if Ronnie's new mentor wasn't an overgrown adolescent whose idea of quality time includes keggers in Venice Beach.
Once the center's ex-con director (Jane Lynch) gives them an ultimatum, Danny and Wheeler are forced to tailor their brand of immature wisdom to their charges. And if they can just make it through probation without getting thrown in jail, the world's worst role models will prove that, sometimes, it takes a village idiot to raise a child.
Role Models hits theaters on November 7th 2008.